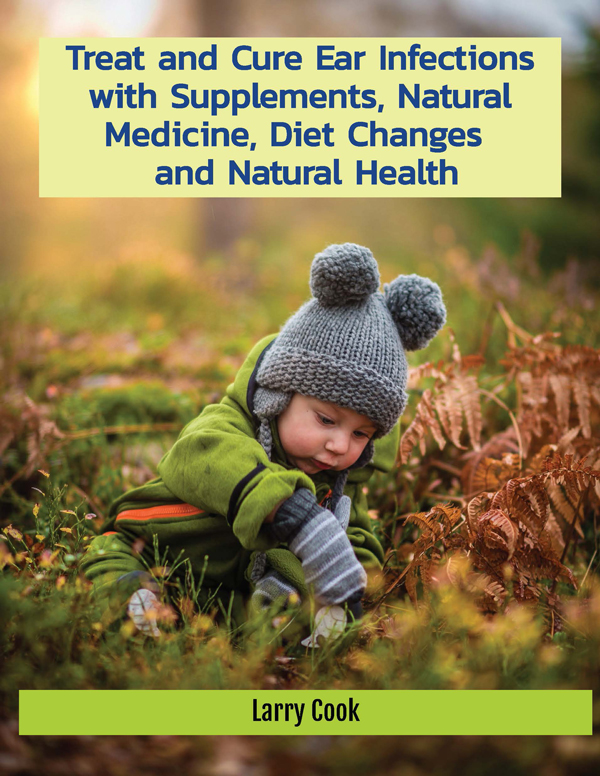 Treat and Cure Ear Infections with Supplements, Natural Medicine, Diet Changes and Natural Health
By Larry Cook & Dr. Weintraub, ND
This informative 14-page eBook is a very in-depth overview of how and why children develop ear infections and what you can do to implement an ear infection treatment program. Major topics include:
Medical definitions of ear infections
Conventional treatments, that don't really help
Ear infection symptoms
Ear infection causes

A compromised immune system
Low humidity
Bottle feeding
Hyper-active immune system
Low blood sugar
Magnesium deficiency
Second-hand smoke
Exposure to cold
Excess mucus production
The diet connection to excess mucus
The problem with antibiotics
Some dietary oils increase mucus secretion
Too many carbohydrates
Food allergies cause excess mucus
Why proper bowel function s important
The acid/alkaline balance

Ear infection treatment

Eat foods for health
Other diet recommendations
Digestive enzymes
Breast feed
Adopt a natural living lifestyle
Additional recommendations

Over a dozen natural remedies explained
The eBook is 100% free. Click the following link to download it to your computer:
Natural-Cures-For-Ear-Infections-by-Larry-Cook-2019
Feel free to share this page with your friends and family and especially parents!
If you appreciate this website and my advocacy work, please consider a monthly contribution or one-time donation.
~ Larry Cook