Public Health Myth #5: Trust Your Government
The Myth: We can and should trust governmental agencies that mandate vaccines as a matter of public health.
The Truth: There are many conflicts of interest, including financial or career incentives, in the governmental agencies (CDC, FDA, HHS) responsible for public health and safety that give rise to issues of trustworthiness.
Pharmaceutical lobbyists outnumber members of Congress, and campaign donations are spread across both political parties. And pharmaceutical lobbyists, as a group, have a budget greater than some countries. Do the profit motives mask growing concerns over the safety of this highly profitable medical intervention?
Ethical considerations are another concern. The advancement of science (sometimes only for sciences' sake), and governmental agencies that desire to use those advances for the public good, continues to suffer from the same preconceptions and blind spots about the value of some lives versus others that has plagued this country since the first eugenics proponents spouted their theories at the beginning of the 20th century.
These ethical blind spots are responsible for a record of deadly errors from unsafe drugs, immoral experimentation on uninformed or coerced subjects, and "public health" legislation that is troubling at best and criminal at worst.
An incomplete list includes:
1932 – 1972: the Tuskegee syphilis experiments performed on African American men sponsored by the U.S. Public Health services (USPHS)
1946 – 1948: USPHS and the National Institute of Health (NIH) experiment on 700 detained Guatemalans who were intentionally infected with sexually transmitted diseases
1941: experiments exposing mentally ill patients to freezing temperatures for 80 – 120 hours (called the "refrigeration" experiment) conducted at Longview State Hospital (Cincinnati) and McLean Hospital (part of Harvard University)
1957: the drug Thalidomide was given to pregnant women as an anti-nausea drug causing miscarriage and/or terrible birth defects
1950s: Polio vaccine caused deaths and paralysis; cancer causing SV-40 virus given to millions
1956 -1972: "mentally retarded" children at the Willowbrook State School in New York were deliberately infected with hepatitis for an experiment meant to track the development of the infection. Parents were coerced to participate as a condition for admission to the school.
1993-95 the EPA sponsored lead abatement experiments in Baltimore using toddlers; researches recruited poor families with small children to live in housing with toxic levels of lead. Researchers from Johns Hopkins then measured the blood levels, watching the lead levels raise significantly without informing the parents of the dangers to the children.
1986-2000: thousands of children in foster care (wards of seven states) who ranged in age from infants to late teens and were from mostly poor minority backgrounds were used as human subjects in HIV/AIDS drug and vaccine trials sponsored by the government and corporations; no parental consent or approval from independent advocates was obtained (a violation of federal law); some died. (VE p 91)
Flu vaccine deaths and injuries (1976, 2009)
Estimates for up to 500,000 deaths from Vioxx, a drug produced and marketed by Merck despite Merck's foreknowledge of the drugs dangers
1993-96: Fenfluramine experiments on 100 mostly poor, African American and Hispanic boys aged 6-11; researchers at the New York State Psychiatric Institute (with the approval of, and funding from, the National Institute of Mental Health) injected this known neurotoxin into the boys in an experiment that set out to "prove" that there is a biological marker for criminal behavior; this research used and damaged healthy children for experiments with no therapeutic value
Tobacco and DDT deserve special mention. Tobacco companies advertised their products heavily in all media for decades. When serious questions arose about the health dangers of tobacco use following a report by Morton Levin in 1950 linking smoking to lung cancer, tobacco companies used company sponsored "scientific research" to prove that tobacco did not cause cancer. This went on for decades before the government finally acknowledged a direct link between smoking and lung cancer, banned tobacco advertising in magazines and television, and placed warning labels on cigarettes.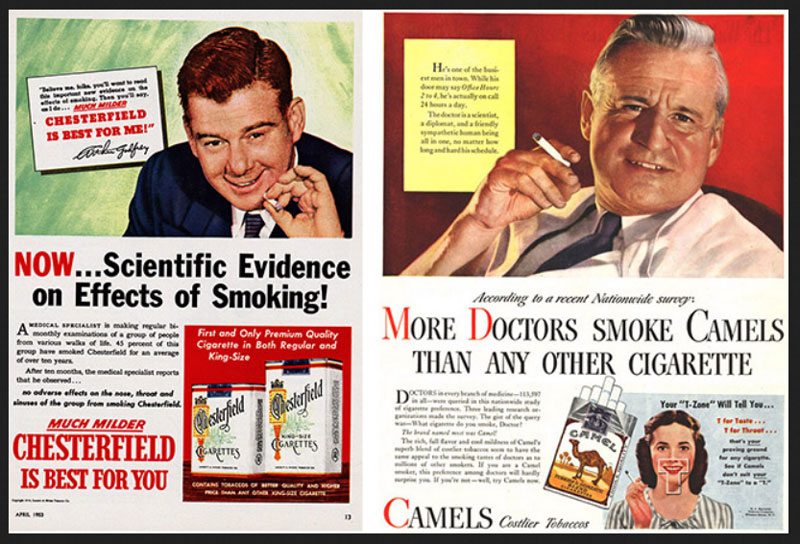 (Ads from: www.collectorsweekly.com/articles/the-top-10-most-dangerous-ads/)
DDT was a popular insecticide and a heavily advertised product in the mid-twentieth century. It was touted as both safe and effective. DDT was very effective and it wasn't just an agricultural product used on farms or ranches. It was also used widely in homes and public places to prevent flies and biting bugs. It was sprayed at public beaches filled with children and adults. It was dusted around the home (even on children's lunches), and it was used to rinse clothing, bedding, and mattresses.
DDT "education" came from advertisements too: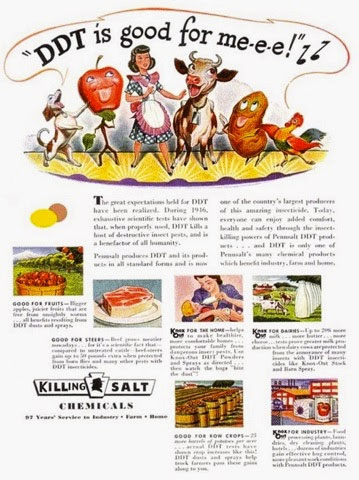 Because of these advertising campaigns, many people not only thought DDT was safe but that it was actually good for them. This proved to be quite untrue and DDT was banned in the 1972 because of its toxicity to the environment.
However, it is interesting to note that the symptoms of DDT toxicity in humans can look just like polio. And DDT was used most heavily in summer months, which correlated with increased reports of polio.
While educated, caring individuals (physicians, legislators and health administrators) can make a seemingly rational argument that accepts the harm to some for the benefit of others, we as citizens can and should object loudly.
Our heritage, as well as our own moral and ethical standards, compels us to demand our Constitutional and human right to control medical interventions for ourselves and our children regardless of legislation passed enforcing mandated vaccination.
Get involved. Educate not only yourself but your family, friends, neighbors, teachers, and school boards. Share this information with your physician, your legislators, and school administrators.
An informed public is the best defense against legislation that denies the right to self-determination.
Public Health Table of Contents
The Problem With Mandatory Vaccination as Public Health Policy
Public Health Myth #1: We Need Vaccines
Public Health Myth #2: Vaccines Saved Lives
Public Health Myth #3: Vaccines Are Safe
Public Health Myth #4: Herd Immunity
Public Health Myth #5: Trust Your Government