Share with your friends...
Donate To My Public Education Efforts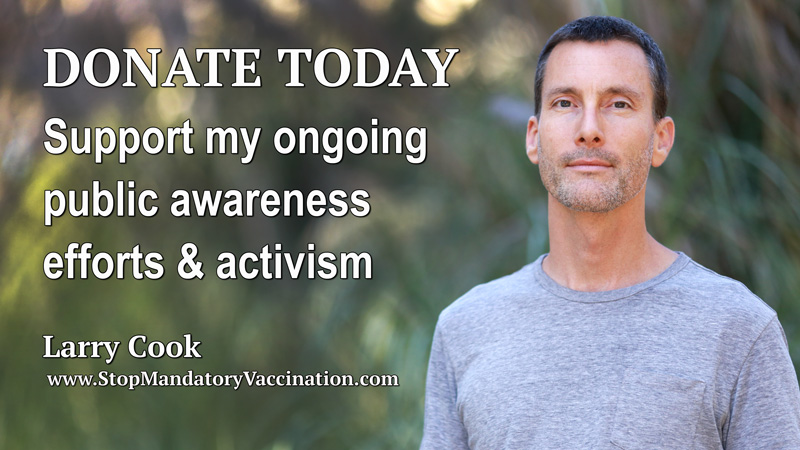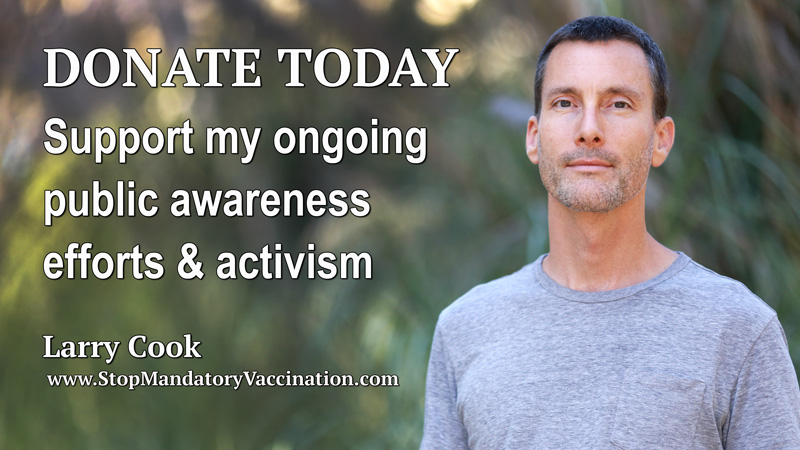 My goal is to raise public awareness about the dangers of vaccines, why we don't need vaccines, and to be a resource for all others who are fighting vaccine mandates. This website has a wealth of information on it, including parent stories, interviews with doctors, videos, links to outside resources, books to read, links to other groups fighting vaccine mandates, and a lot more. As we continue to push this information into social media and other channels of distribution we win more people over to our side and grow our army of parents and others willing to do the work needed to educate legislators, educate the media, educate parents and educate society why we must stop vaccine mandates. Your financial contribution helps me to continue to do this work. You can donate below, or set up a recurring monthly payment via PayPal or my membership system by clicking here. Thank you so much!
Larry Cook
Founder of Stop Mandatory Vaccination
DONATE ONE TIME

Credit Card
PayPal…
---
Mail…
You can also mail me a check. Mail to:
Larry Cook
12405 Venice Blvd # 195
Los Angeles, CA 90066-3803
---
DONATE MONTHLY
Click Here For Recurring Monthly Payment Options
PayPal and Credit Card options are available
---
Click here for my secret project fundraiser.
---
March 17, 2017
All donations to me go directly to me and into my bank account, and from there I and I alone decide how to use the funds to further my Stop Mandatory Vaccination public awareness goals. I do not have a 501c3 nonprofit and, although I have considered forming one, I have determined that, at this time, there is not enough donation revenue to warrant the expense of setting up a nonprofit and running it (I ran a nonprofit for four years, so I know something about this). I am not beholden to any social media "oversight committee" or individuals who believe they should have any say into how or where I spend the donations that I receive, or even question where and how I use the money donated. I use my best judgment to further my public awareness goals and people may decide if they want to donate to my efforts, or not. With that said…
Money donated to me may be used to pay my personal bills, hire help when I shoot videos, pay for video editing, purchase equipment, pay for Facebook advertising, pay for my ongoing email list management (Mailchimp), pay volunteers who help me, pay for software, pay writers, pay photographers, pay website hosting, pay for volunteer online management software, pay for plugins for the website, and any and all other expenses related directly or indirectly to my public awareness efforts.
With the very generous financial support of literally hundreds upon hundreds of individuals who have supported my mission I have been able to create this website with all of its excellent content, create a large number of video interviews (and will be creating many more), create the largest vaccine awareness Facebook group on Facebook with over 71,000 members which will grow to over 100,000 by summer 2017, create a Facebook Page with over 42,700 Likes that regularly reaches well over 1/2 million people every month with my public awareness messaging, create and update this website that is visited by over 40,000 people each month, photograph and create interesting vaccine awareness memes, send email updates to over 16,500 subscribers on a regular basis, and of course, through social media, create engaging posts that keep the vaccine awareness conversation alive and motivate people to action.
There is no "magic bullet" to stopping vaccine mandates – if that were the case, it would have happened already. The phrase "Stop Mandatory Vaccination" is a rally call, not a phrase for others to use to suggest I have failed because vaccine mandates are still here. The development and promotion of public awareness around the vaccine mandate issue in particular, and vaccines in general, not only keeps the conversation going, but wins over the hands, minds and hearts of others, including parents, teachers, legislators, judges, media, and society as a whole. I focus in social media because it is effective and immediate. A primary goal is to bring more parents into vaccine awareness, and to that end, I have created a deliberate funnel that drives parents into my Stop Mandatory Vaccination group where parents can ask questions and get the answers they seek – often within hours of posting. And then, parents wind up going vaccine free, and more activists are born. There is no reason for me to deviate from my public awareness efforts and do something I know nothing about (like, launching a lawsuit).
I am posting this on my website in response to ongoing and near daily character assassination happening against me in social media. People who engage in character assassination do so because they are unable to criticize the actual work that someone produces and therefore go after character from a place of envy, jealousy, rage and fanaticism. Make no mistake, there is sinister energy happening here and good people are getting caught up in mass hysteria with malicious intent to take down myself and others doing good work on behalf of the cause. I have been messaged many times by people saying they don't understand why I am being attacked. The understanding only comes with an understanding of spiritual warfare and how the dark forces will stop at nothing and use every means and every individual possible to try and stop those doing good work. There's good reason why I used to ask on a regular basis for people to pray (maybe I should start that again). Let it be known that I fully understand that it matters not that I have posted this, those who have engaged in character assassination will continue to do so, only from a different angle. That is the reality of malicious intent.
If you are new to this movement and you are not sure who or what to believe, hopefully this post has been helpful to you. Feel free to reach out to those who support me and get their feedback. And, if you support me and my efforts, feel free to share this page on posts where I am being criticized. Hopefully this post will mitigate some of the hysterical energy and those in the middle will have a better understanding of what is really happening. And, with that said, yes, I absolutely will block those who continue on with their antics and harass me. I will not be bullied.
Now, I'd like to get back to doing what I spend most days doing: working on this vaccine issue so we can ultimately shut down vaccine mandates. Thank you for taking the time to read this.