Find A Vaccine Free Doctor
Why A Vaccine Free Doctor?
More and more parents are opting to refuse vaccination because the risk of injury is high and there is little to no benefit to being injected with poison. Pediatricians are now being forced by insurance companies to vaccinate all children in their practice and/or are deciding to fire patients who do not vaccinate. Parents sometimes don't know who to turn to in the medical field for their children's needs, which is why I created this page. Also, keep this in mind: "well baby visits" are first and foremost for the purposes of vaccination – all else is secondary. Many parents never go to "well baby visits" because their child is healthy. That said, I do believe it is a good idea to have a primary care doctor at your disposal for if the need arises.
I also recommend that ALL PARENTS purchase the book, The Unvaccinated Child: A Treatment Guide for Parents and Caregivers because the two naturopathic doctor authors give very clear guidance on how to overcome all childhood illness without toxic drugs and procedures.
Alternative Doctor Types
There are many types of doctors who are qualified to see children, including: Integrative Medical Doctor (MD),  Doctor of Osteopathic Medicine (DO), Naturopathic Doctor (ND), Licensed Acupuncturist (LAc), Chiropractor (DC) and Homeopath (unlicensed). Not all alternative doctors are against vaccines, mind you, but many are. The point is, do not limit your search to only pediatricians when you are searching for a vaccine free doctor. I give an in-depth explanation of the different kinds of doctors in my book, The Beginner's Guide to Natural Living.
How To Find A Vaccine Free Doctor
If you are on an insurance plan, are low income and your pediatrician fired you, you might be able to see an general medicine MD or DO within your insurance plan. That would be your first action step. Many alternative doctors are cash only, but not all. With that in mind, here are some ways to find a vaccine free doctor:
1) Do an Internet search using doctor modality plus city or state: "naturopathic doctor Seattle", "integrative medical doctor Seattle", "homeopath Iowa", "chiropractor Eugene" and so on. Like I said, not all doctors are vaccine free, so you will want to look at their websites and see what they say and narrow your list to then call and ask questions. Chiropractors, Acupuncturists and Homeopaths are not allowed to give vaccinations, but in some states, Naturopathic Doctors are allowed to. With this in mind, I have found that NDs who graduated from NCNM are more likely to not support vaccination, so take a look at their bio to see the schooling.
Click Here To Find A Vaccine Free Naturopathic Doctor: 
www.naturopathicmedicineinstitute.org
2) Look at the association websites for alternative doctors. You might google "integrative medical doctor association" or "acupuncturist association Oregon" or "naturopathic association Texas" for example, and virtually all associations have member directories. Members can often be located by zip code search.
3) Here is a website to review that offers vaccine free or vaccine friendly doctor lists: VACLIB
Vaccines are destroying our children at an unprecedented rate (Autism alone is 1 in 36) and it behooves us to find educated doctors who will not bully or otherwise advocate that parents must vaccinate their children.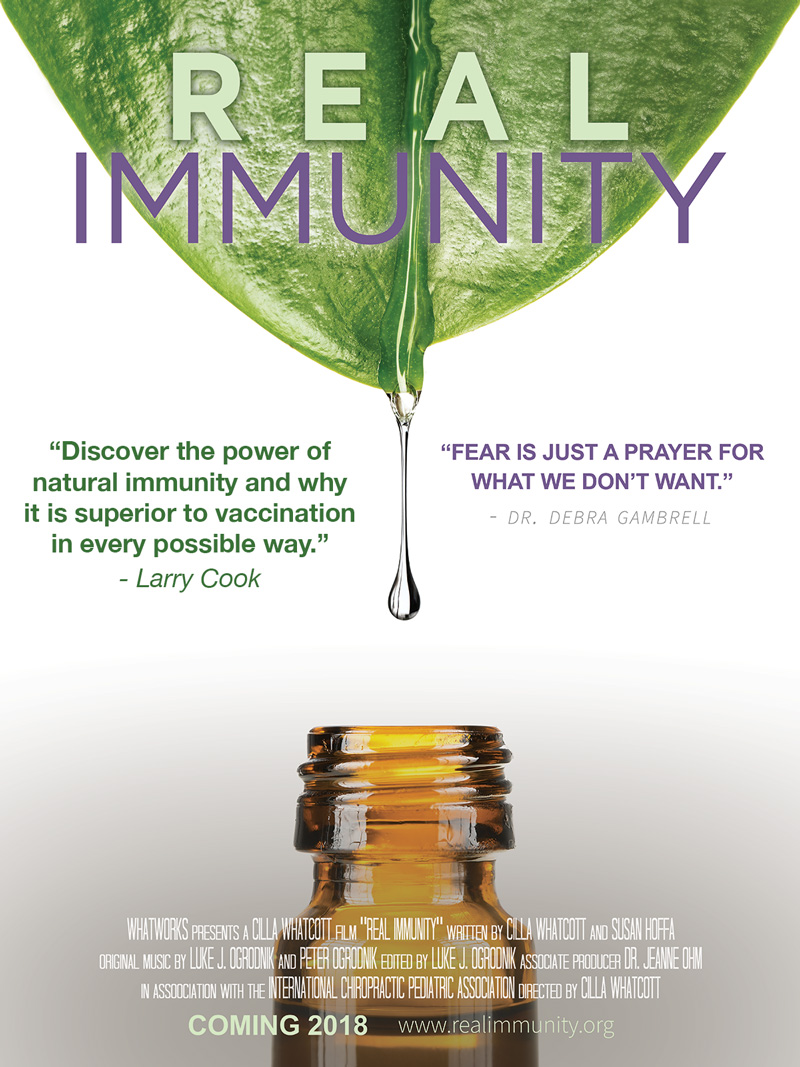 5) A documentary released in February 2018 called REAL IMMUNITY and the creator, a classical homeopath, gives a full understanding as to why natural immunity is not only better than vaccination, but most definitely PREFERRED. This is a must see and must own documentary.
VACCINE EXEMPTIONS
Children can be exempted from vaccine requirements fairly easily in 45 states and with much more difficultly in 4 states. In California, it's impossible to get any kind of exemption and the only two options left are to homeschool or move out of state. To learn about vaccine exemptions, go to the National Vaccine Information Center and select your state to find out the process.
BUY THIS BOOK!
I own The Unvaccinated Child and I recommend it for every vaccine free parent!!! It is an absolute gem and a must-have book for your library. It is much cheaper than a doctor's visit and is written by two doctors! It really covers everything for treating a sick child! ~ Larry Cook  CLICK HERE TO BUY
Feel free to leave a comment below.