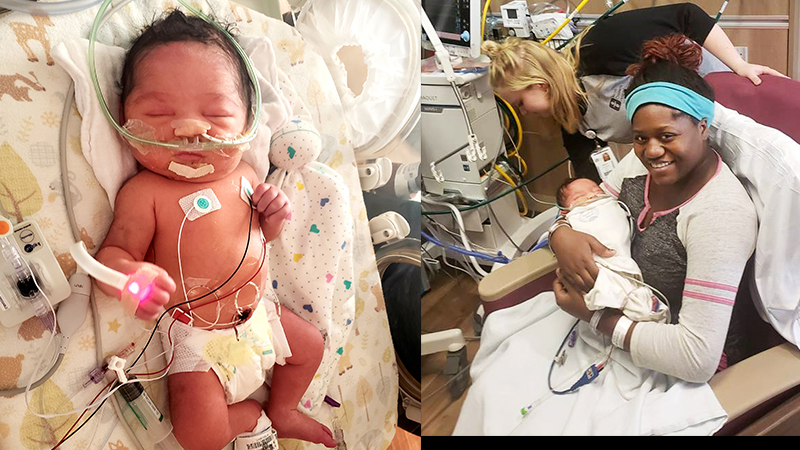 Six Day Old Infant Dies After Respiratory Distress, Vitamin K, Lasix, and Abuse
Erica Dawn Miller recalls the birth of her son, Bransynn, as fast and easy at Wooster Community Hospital in Ohio. When he was born, his cord was wrapped around his neck and he was blue. Bransynn initially needed help breathing due to some respiratory distress. Within a couple of hours after birth, he was transported to Akron Children's Hospital. Bransynn's dad accompanied him to Akron Children's Hospital, while Erica's mom stayed back at the hospital with Erica as she was still under care for an infection. (While at Wooster Community Hospital, Erica received a call from Akron Children's Hospital asking if she wanted Bransynn to receive the Vitamin K shot and she declined – this was also listed on the Akron admission paperwork.)
Once Erica arrived at Akron Children's Hospital, she shared, "I noticed I was mistreated as soon as I got there." She learned that Bransynn received a Vitamin K shot (that she never consented to) and he was also given Lasix intravenously. Furosemide (Lasix) is a diuretic most given to neonates and causes dehydration, loss of electrolytes, the depletion of potassium, magnesium, calcium, and sodium, heart failure, and kidney failure. The Mayo Clinic states: "This can damage the blood vessels of the brain, heart, and kidneys, resulting in a stroke, heart failure, or kidney failure."
As if Erica was not dealing with enough trauma and frustration, during this time, Erica observed a nurse carelessly bang her infant's head, and after she called her out, the nurse banged Bransynn's head again. Bransynn had noticeable bruising on his head after Erica and her partner returned from a short exit.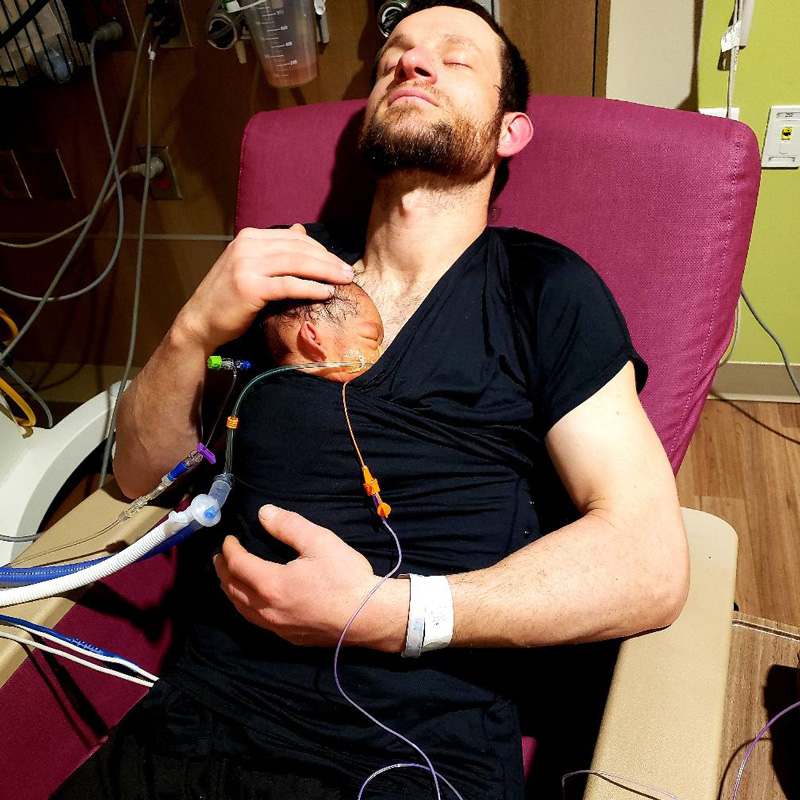 After Erica witnessed her son harmed, abused, and deteriorating, she requested Bransynn be transferred to another hospital, but was denied. The parents claim that the hospital gave up on them and refused to have the child transferred elsewhere. Erica reported Bransynn's health declined after the Vitamin K shot and Lasix – and he died within days.
Erica is not alone in losing her newborn son after the Vitamin K – she joins other families in their investigation to dig deeper for answers, truth, and justice after an unbearable loss. Read Erica's tragic story in her own words, followed by a question and answer exchange with more details not to miss:
Erica: "My son's story….My son Bransynn was born needing help breathing – that's the only reason we went to Akron Children's Hospital. He was only going to be there for three days. Well, I had to stay behind at my hospital because after he was born, I got an infection in my uterus. The doctor up at Akron Children's Hospital told us my placenta had an infection in it and my son was born brain damaged. Yet I told my OB and she said that was a damn lie – that he was fine until in Akron Children's care. My doctor and Bransynn's doctor at Wooster said he only had seizures at Akron. She released me and I went to my son. In that time, I watched a nurse bang his head on his bed, be mean to him, and yank him out of my arms – to where I got physical with her. I even asked the charge nurse to give me a different nurse and she refused. I had to wait till the doctor came around and I was beyond angry and in tears.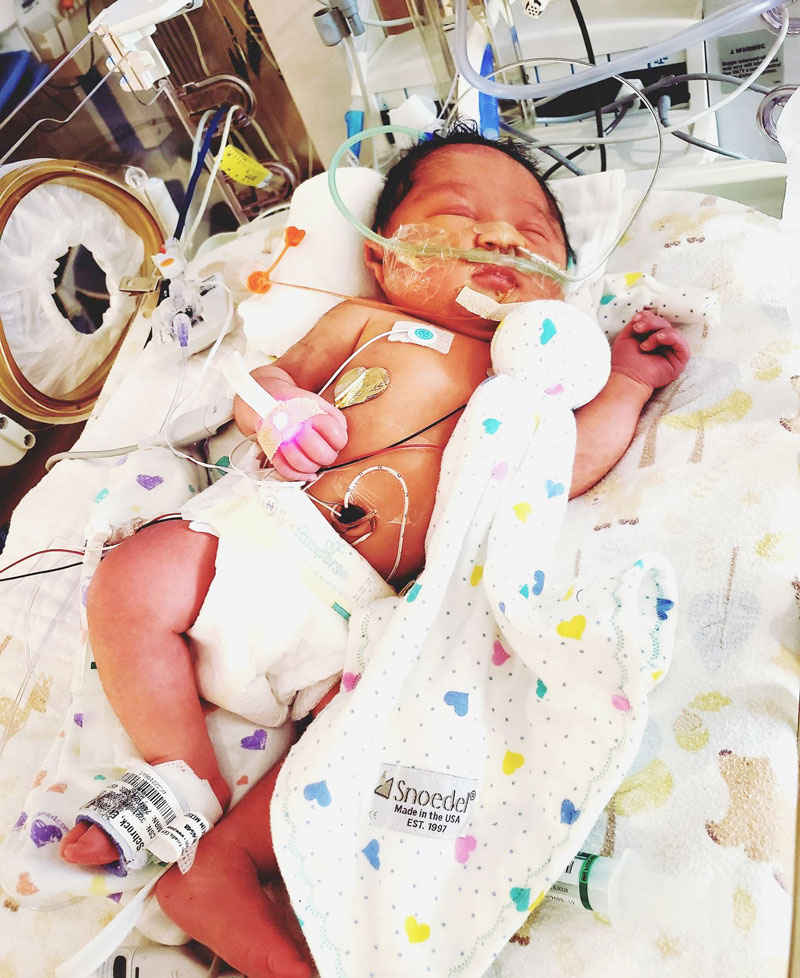 His dad said that they bullied him to do the Vitamin K shot and told him our son would bleed to death without it. They also gave him something in his IV and said he wasn't peeing, which was a damn lie as well because he was peeing full diapers and peeing out of them. After that his kidneys started to die.
They told us the Lasix was to make him pee, yet he wasn't having any trouble peeing. In fact, he had full peed diapers and was even peeing out of them. My sister's boyfriend who is in college to be a doctor said babies, especially newborns, should not be given Lasix – I mean shit, that's stuff you give to horses.
After we were at Akron Children's hospital and things were going south, I got in contact with two other NICU hospitals that were on standby waiting to come get Bransynn and treat him, but the Akron Children's Hospital doctor told me he's not allowed to leave and threatened that he will report us for kidnapping our own son if we removed him, which I told him if he dies, his blood is on his hand and I'll be coming for them."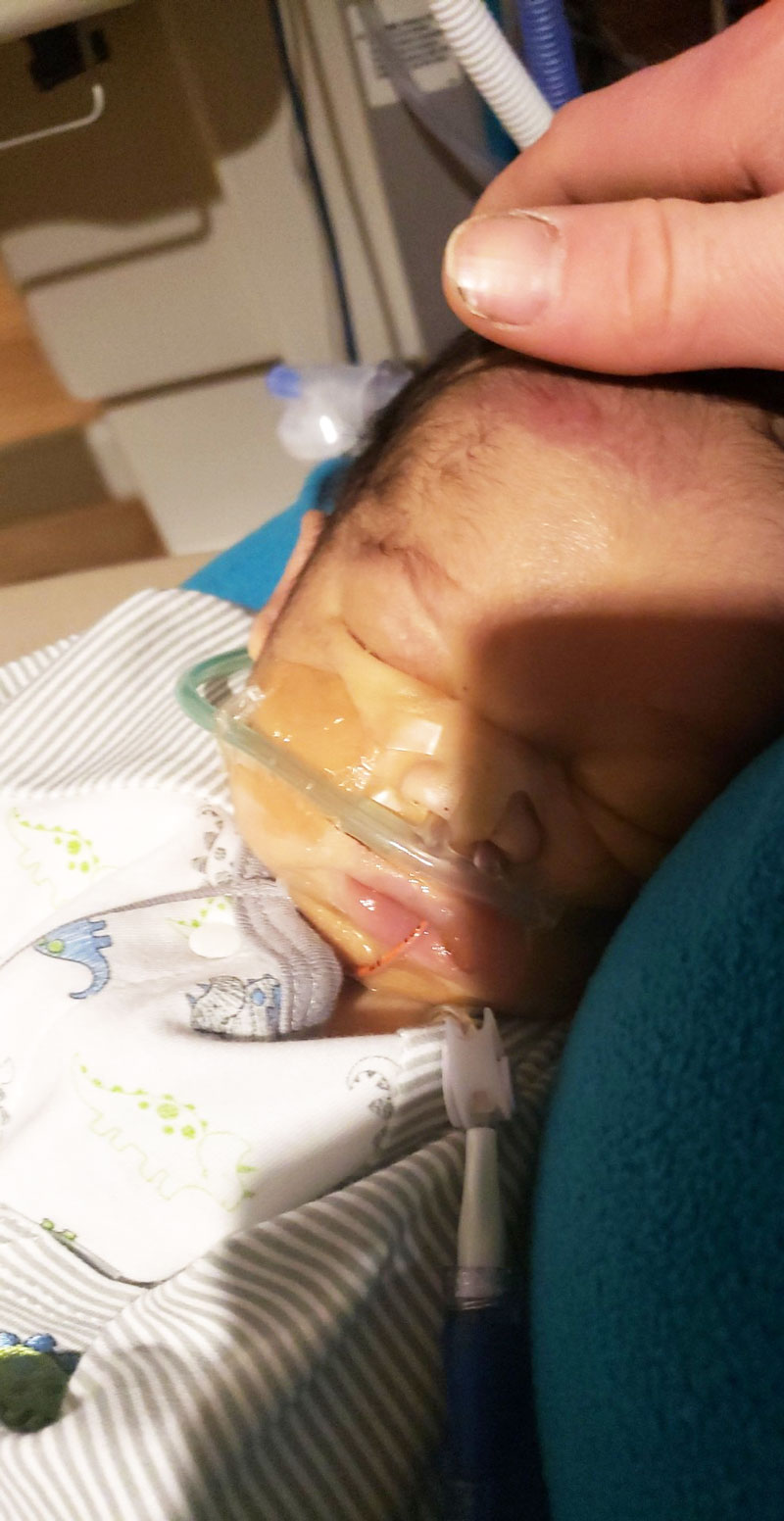 ---
Erica wrote a Facebook post no mother should ever have to write:
April 14th, 2019: "It is with heavy hearts – we are sad to inform everyone at 6:59 a.m. Bransynn Daniel Miller took his last breath surrounded by those who loved him dearly. Our hearts are broken as we ask God why why our baby boy."
---
The hospital paperwork shows doctors suspected Bransynn also had sepsis, seizures, and there was significant neurological damage.
The death certificate shows "severe hypoxic-ischemic encephalopathy" which is lack of oxygen and blood flow. Other contributing factors on the death certificate include: diffuse supratentorial brain infarction, ectopic posterior pituitary, and absent pituitary stalk.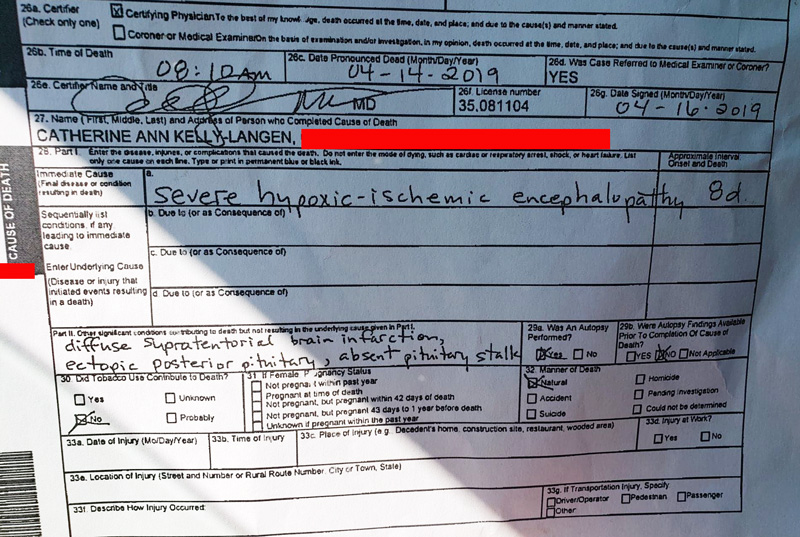 Q&A with Erica:
Q: What was the feeling and vibe when you were at Akron from when you arrived and throughout your stay?
Erica: That something was not right. My son looked scared and didn't sleep until I got there.
Q: How were you and your family treated? How was Bransynn treated by the staff?
Erica: Complete crap. Bransynn was abused.
Q: What did you observe in their care of Bransynn?
Erica: They didn't treat him like a patient.
Q: How was your pregnancy? Smooth and easy or did you have difficulties and health issues? Were you vaccinated during pregnancy for DTaP, flu shot, or anything else?
Erica: I was never vaccinated (during pregnancy), but my pregnancy was a little bit of both.
Q: Do you have other children?
Erica: No, he was our 4th, but our rainbow miracle baby after 3 miscarriages.
Q: What infection did they say you had in your placenta that they requested you stay in the hospital for?
Erica: My water broke too early due to a bacterial infection. I had to stay behind to make sure I was ok.
Q: What tests did they run for the nurses to determine your son was "born brain damaged" as they claimed?
Erica: All they did was shine a light in his face. They had him on so many drugs – I was pissed.
Q: Can you describe when and what you witnessed when you mentioned the nurse banged Bransynn's head on more than one occasion and yanked him around?
Erica: She was too lazy to open the top of his bed to get him out and so he hit his head. I told her if she does it again, I'm whooping her. She never even apologized. She then only let me hold him for 20 minutes and tried to grab him from me to which Bransynn held on tight to me and started crying. I told her to stop or else. Well she took him and again was too lazy to open the top part of his bed and thus hit his head, so I lunged at her, and punched her, and then walked to the nurse's station twice in tears for my son.
Q: Who bullied Bransynn's dad into accepting the Vitamin K shot and what did they say? What day was the Vitamin K administered?
Erica: The doctors told him Bransynn would die without it – it was the very first night he was there.
Q: What symptoms did you notice after the Vitamin K shot?
Erica: He was more slower, out of it, and confused, no longer making eye contact, and in a daze – this is what his dad said. He was no longer alert.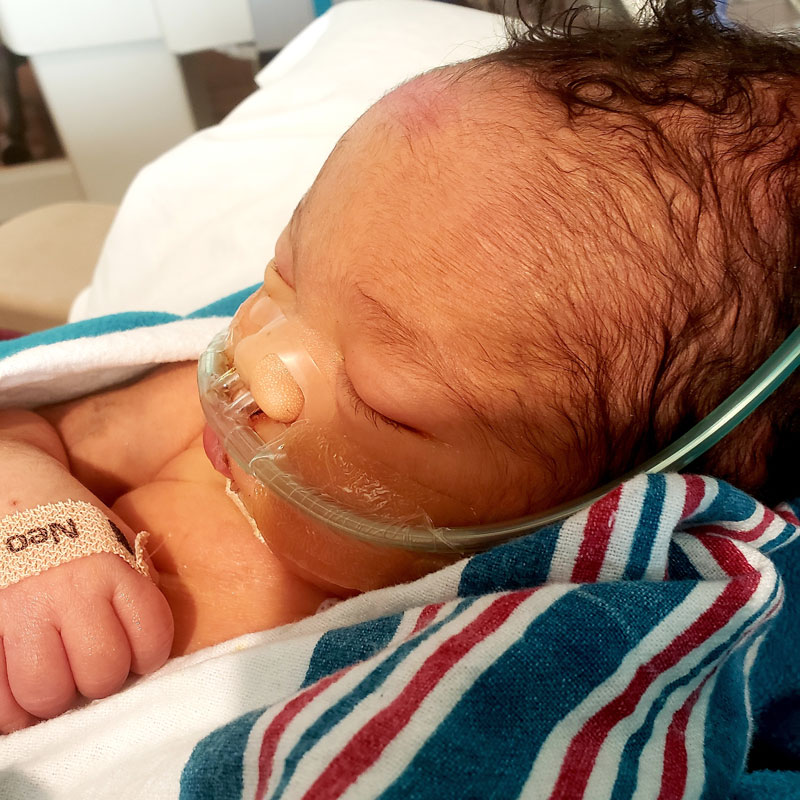 Q: You mentioned the nurses yanked him around, was he bruised from that or from where he had the Vitamin K shot or other medical interventions?
Erica: Both, he was bruised from the nurses yanking him around and they just dug around in his arms. I ended up saying no more IVs.
Q: What else did they administer in Bransynn's IV other than the Lasix and why? Were they covering up a potential reaction from the Vitamin K shot?
Erica: A lot of things – I don't even know all of what they put in his IVs – I just know they got pissed at me when I started unhooking his IVs and said no more.
Q: The nurse said Bransynn wasn't peeing, but you recall he was and regularly wet his diapers. Why was there a discrepancy with the nurse's opinion?
Erica: They were covering up something because when I brought it up then, they just ignored me.
Q: You stated that after the IV, his kidneys started to die. What happened?
Erica: He all of a sudden swelled up again. Doctors said his kidneys are shutting down. It was after my little sister's boyfriend told me about Lasix and the side effects that I knew that's the cause of his kidney failure.
Q: Did Bransynn die in the hospital? Can you explain what happened and the timeline to your knowledge?
Erica: Yes, he never got to come home. He died April 14th at 6:45 a.m. in my arms. I try and block this part out as much as possible, but he was unresponsive for two days. We just held him and loved on him. I told him it's ok to let go and he grabbed tightly on my fingers and didn't let go until he let out three final breaths and was gone.
Q: What else would you like to share about your experience?
Erica: I want people to open up their eyes.
Q: Did you have any allies or safe connections at Akron Children's Hospital? Is there anyone there that you can or did confide in about what happened?
Erica: Nope, zero, none.
Q: Someone had commented that there were seven other babies that died at Akron Children's Hospital? Any idea why? Bad batch of vaccines? Nurse abuse?
Erica: I was later told that the Vitamin K shot Bransynn received was hot boxed. Akron Children's Hospital experiments on children and babies. The Amish hate that place – it's literally of the devil.
Q: Have you been in touch with any of the other parents who lost their children as a result of their care at Akron Hospital? Or know of them?
Erica: No, I'm not allowed.
Q: What steps have you taken since Bransynn's passing?
Erica: Tried to get justice.
Q: Did you request an autopsy? Medical records? (You mentioned you did, but they won't release them.) Opinions from lawyers or other doctors about what occurred and reasons for his death.
Erica: Yes and was denied the paperwork. I sent you the records – all lies according to my insurance company. Their paperwork says a whole different story. They too say Akron Children's Hospital killed my son.
Q: Did you file a VAERS (Vaccine Adverse Event Reporting System) report?
Erica: Yes, on November 3, 2019.
Q: What do you think contributed to and/or caused Bransynn's death?
Erica: I feel like Akron Children's Hospital is the reason he is dead.
Q: You shared that you are pursuing legal action and are looking for attorneys to take your case, correct?
Erica: Yes
Q: What support, help, or connections do you need access to?
Erica: Everything.
Q: What advice or recommendations do you have for doctors/nurses? Other parents?
Erica: Parents trust your gut, and to doctors and nurses, I no longer trust any of you.
Q: What has been the most frustrating part of this whole experience?
Erica: The lies and runarounds and the cover ups, but most of all crying for my son. My heart aches for him.
Q: What would you like us to know?
Erica: The hospital and doctors need to pay.
We are back at square one with everything, trying to find attorneys that take us seriously, and are on our side. A part of me wants to give up, but my mama side wants to keep on fighting.
---
~ In loving memory of Bransynn Daniel Miller (April 6th – April 14th, 2019) ~
---
Please leave your condolences below for Erica and her family.