Philippine Infant Dies 4 Days After Being Injected With 7 Vaccines
Shall we just accept the continual carnage and destructive path of vaccines? How many infant and children deaths will be enough for health departments and medical examiners across the world to finally pause, admit something is horribly wrong, and investigate? With healthy babies dying shortly after vaccines, why aren't we examining these high risk medical products, the lack of safety, and fully investigating all possible death causes, including how, and if, vaccines played a role? Why ignore the pink elephant in the room that continues to crush babies to death and silence dissenters and those that ask pertinent questions?
How many times are we going to be disillusioned with mysterious causes or "coincidental" death outcomes after vaccination? Which infant will die next to further prove the connection and capture the attention needed to shift this devastating trajectory?
Sadly, we are reporting another tragic infant death story following vaccination submitted by a Philippine mother. Jovy Nedlemot's loss of her Baby Rio is similar to another story of Baby Jhanella we covered from the same country several months ago. Jovy initially shared her son's death story with We Did Philippines. Jovy's story was submitted to us by Angelik Valeyo who graciously helped us translate the follow-up question and answer session and served as a liaison and advocate for Jovy and Baby Rio's family.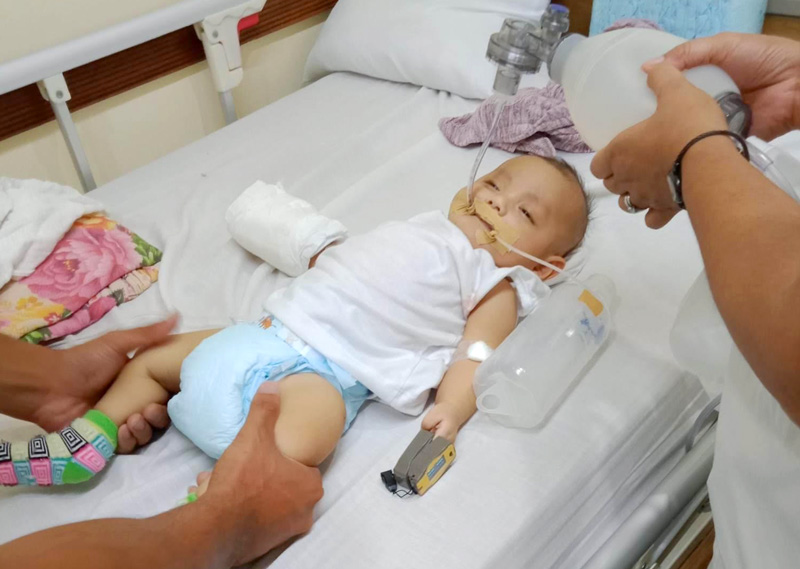 Baby Prince Jhon Rio Tomelden Cutiño was a smiling and happy 2-month-old.
Baby Prince had a cough/pneumonia sometime in February 2020, which was managed by antibiotics. He was well and very active afterwards, according to his mom.
On March 9, 2020, the health center staff checked only his height and weight and decided he was fit and healthy to be given the following vaccines:
1) Pneumococcal Conjugate Vaccine (PCV) (for bacterial pneumonia)
2) Oral Polio Vaccine (OPV) (for polio)
3) DTP-HepB-Hib Pentavalent 5-in-1 Vaccine (for Diphtheria, Tetanus, Pertussis, Hepatitis B and bacteria that cause meningitis, pneumonia, and sepsis).
The health center staff did not explain any of the risks in the vaccine product insert to the mother. There was no informed consent.
After he was injected, he had persistent bleeding at the injection site and persistent vomiting. He was brought to the hospital on March 10th where he later died on March 13, 2020.
His immediate cause of death was declared bacterial meningitis. The antecedent cause was sepsis.
Q: What was Rio's health condition when he was born?
Jovy: Upon giving birth to my son, the doctor said my baby is healthy and even appreciated the way he looks, complexion, and his pointed nose.
Q: Did Baby Rio receive any vaccine or other shots at birth? Like the Vit. K or Hep B.? 
Jovy: Attached here is the vaccine record stating that baby Rio received Hep b and BCG vaccines when he was newly born in SDS Medical Center Marikina City.
Q: Where was your baby vaccinated?
Jovy: At Fortune Health Center, Marikina City #10 San Miguel Phase 2 Barangay Fortune Metro Manila, Philippines.
Q: Can you explain what happened from the time the baby received his shots to his passing? 
Jovy: On March 9, 2020 we visited the Fortune Health Center to have my baby's scheduled vaccines. We went there as early as 7:00 a.m. and Rio received his shots around 9:00 a.m. After the medical personnel took my baby's weight and height, they let us in the room for him to be vaccinated. The two medical personnel pointed to one another on who will be injecting the vaccines, but then one of them (likely a midwife) was the one who injected all. (We still don't know their names.) They never informed us that vaccines have adverse side effects.
My baby Rio was sleeping when we got back home and I was putting some hot compresses in the affected areas where he was injected with vaccines. At around 3:00 p.m. he started vomiting each time he breastfed. I thought it was normal and that he was just fully fed. However, it was strange as he kept on vomiting until night time to morning and continuously vomited. I checked on his vaccine shot areas and he was swelling, bruised, and bleeding. Because of my baby being sick, we sent him to the hospital on March 10th and on March 13th he died at 6:38 a.m.
Q: Did you doctor provide you with full informed consent during your son's doctor visit at the appointment when he was vaccinated? Meaning did they provide the full risks (including injury/death), benefits, and if they didn't vaccinate at all? Were you given any paperwork that explained the adverse side effects and signs to look out post vaccination? Were you fully aware of the risks beforehand?
Jovy: Nothing was mentioned from above. No.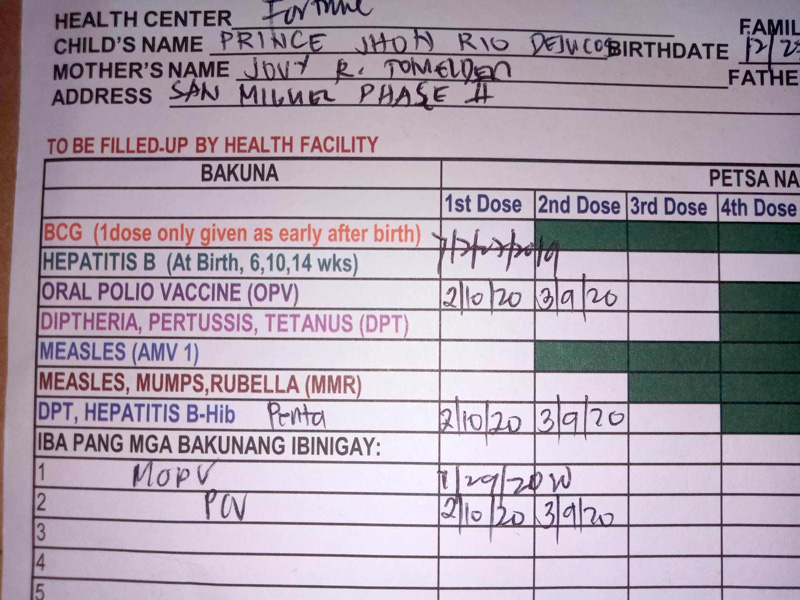 Q: What do you wish you would have known prior to vaccinating your son?
Jovy: If I knew that these vaccines would have these effects on him then I would have not allowed them to vaccinate my baby.
Q: What would you like to achieve by sharing your story? What would you like us to know about their son and this tragic situation?
Jovy: I just don't want the same thing to ever happen to me and other children.
Q: What justice are you seeking?
Jovy: I want them to act in resolving these kind of cases – so that what happened to my baby won't happen to other babies.
Q: Have you contacted your doctor? Are you receiving any support from any of the medical personnel?
Jovy: Yes, I have contacted the doctor at the health center and was told that DOH will investigate it. We haven't followed up since because of the lockdown in our city.
Q: Has an autopsy been performed on baby Rio? 
Jovy: No autopsy was yet made because I felt like everything seemed to happen so fast.
Q: What advice or recommendations for other parents do you have?
Jovy: They should not be afraid to fight for justice for what happened to their child.
Q: What help, support, or resources, does your family need?
Jovy: In order to put our baby out of the hospital and have him buried in the cemetery, we borrowed money so we are in great debt now and will be needing financial help to pay for it.
Q: Do you have other children? If so, are you planning on vaccinating their other children? Why or why not?
Jovy: We are already traumatized and don't want to vaccinate anymore.
Q: Is there anything else they'd like to share with us?
Jovy: I wish that there will be more parents/people like us that can get the help and justice that they need.
Q: Do you have a fund set up to help raise money for an independent autopsy or other services needed?
Jovy: We don't have money now because of the current Covid-19 crisis.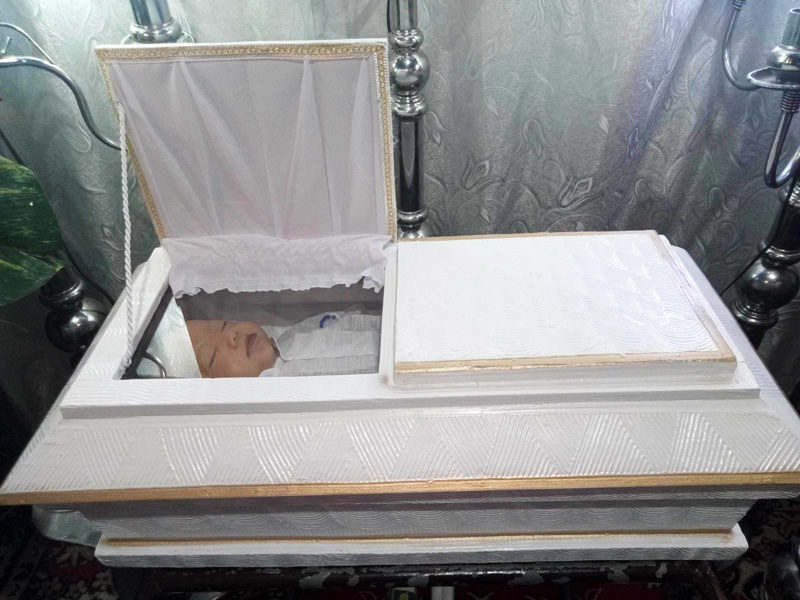 Infant deaths post vaccination are not rare. What is rare is the willingness for these tragic losses to be fully investigated, for the medical personnel and vaccine manufacturers to be held accountable and prosecuted, and for justice to be served.
~ In fond memory of Baby Prince Jhon Rio Tomelden Cutiño (December 27, 2019 – March 13, 2020) ~
To donate a contribution to Baby Rio's family for the funeral and burial costs, visit their fundraiser. Thank you!
*Special note: The DPT and OPV vaccines are no longer used in the United States. The 1986 National Childhood Vaccine Injury Act was instigated partly due to the significant amount of deaths and vaccine injuries that the DPT vaccine caused. The vaccine manufacturers were being regularly sued and losing in court to the extent they threatened to stop producing vaccines due to their financial losses. This 1986 Act removed liability from vaccine manufacturers from their faulty and dangerous products. Through this Act, the National Vaccine Injury Compensation Fund (VICP) was launched as a "no fault" legal program for a small percentage of affected families who apply and litigate to receive compensation through a Special Master's extensive legal process and "vaccine court."