Healthy 4 Month Old Dies of "Natural Causes" A Week After 7 Vaccines
Abigael Portillo is embarking on a journey no mother or parent should ever endure. She's at the beginning stages of investigating and learning why her healthy four-month old baby girl died within a week of receiving seven vaccines. Vida's death certificate shows the manner of death is "Natural" and the autopsy findings show "adenovirus with coinciding rhinovirus infection." (Rhinovirus is also known as the common cold.) However, according to Abigael, Vida "wasn't even sick. No fever no running nose, no cough, – a normal healthy baby." Abigael shares her daughter's tragic story below in her own words followed by our Stop Mandatory Vaccination interview with more details.
Abigael is one of countless mothers and families whose children's health and life were robbed following their "routine" vaccines.
---
Abigael: I took my precious Vida to her 4 month well check and she received Haemophilus influenzae type b (Hib), Polio (IPV), Pneumococcal (PCV13), Rotavirus (RV), Diphtheria, tetanus, and acellular pertussis (DTaP). That is 7 shots. Never did I question what they are for. Are they all necessary at such a young age (only 17 lbs) or even all at once? What are the side effects? What should I look for if she has a reaction? Instead, I just held my baby down while all kinds of chemicals, aluminum, mercury, monkey cells (yes, monkey cells) the list goes on…as they were injected into my baby girl's body.
Now I am left thinking how I wish I knew better. Would a doctor prescribe you seven medications at once to take without a chance of having a reaction nor not give you a paper of instructions and side effects of each medication? Why are these rules not applied here for each injection they give your child?
The doctor stated she was in great health and in the 90% percentile. I asked the doctor for Motrin to give my baby before I left – that it helps with her pain and any fever that she might get. Not even 3 hours later, the screams and crying started, and no matter what I did nothing would soothe her. I was almost in tears because she was a good baby.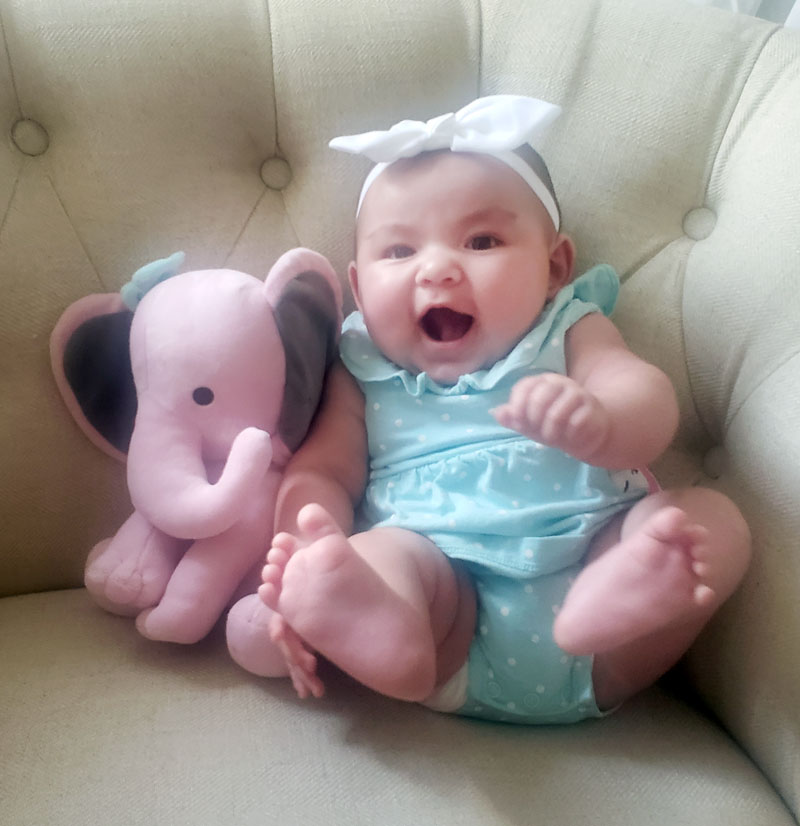 Two days later she had her 1st poopy diaper since her shots. She was with the sitter and she noticed her stool was black. She thought, this is odd, but surely I must know about it already, but I didn't. I found Vida pretty serious after that (more than normal), but didn't think much about her fussiness after the days went by because when I asked my doctor about it, she told me it could be colic. Of course I Googled and thought ok that makes since 4 days after her shots she had a black poopy diaper again. The color didn't alarm me (because when she was born it was black and gooey too and the nurse told me that was normal and had been already been given her 1st two sets of vaccines), but the smell did! Why does it smell like mothballs? (If you never smelled one it is a strong awful chemical smell.) I Googled and of course different pages say different things. One site had several parents complaining about the smell, so I thought to myself in relief, "Ok this is normal it happens to other people/children." I never thought it would be the last diaper I changed.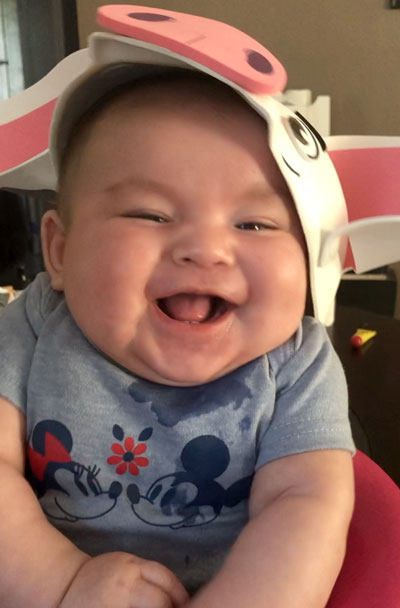 She went to bed Friday night, seven days after vaccinations, after an early morning feeding at 4:00 a.m., and that would be the last time my daughter would be alive. Two hours later, I found my baby girl lifeless. Screaming and yelling, Jesse comes running out the shower with a scared face yelling, "what happened?" I will always remember that look on his face as I paced back forth with my dead baby. He took her from my arms and started CPR until the ambulance got here.
They took her to the ambulance and we were rushed to Methodist Hospital. The doctors rushed her to the ER and they began to try to bring her back. I knew she was dead and I dropped to my knees and begged God, 'Please don't do this to me. Please don't take her from us. Please, please bring her back because you can do anything." I started to pray. I begged the doctor, "Please don't give up. Please!"
This was the worse day of my life and I am sharing it with you, so that you will never have to feel this pain.
The Rotavirus vaccine has a side effect called intussusception. One of the side effect symptoms is black jelly stool. If only I knew better, I would of taken my baby girl to the hospital the first time her stool changed and she would still be alive today. The death certificate states the cause of death is from "Natural Causes." According to the CDC, it only happens in 1 of 100,000 babies. BS!! I am sure that is just the number that gets reported. (No real studies have been done.)
We are getting ready to battle for justice for Vida. The vaccine lawyer said, "I hope you are not doing this for money because the max payout is $250,000." This is all my baby was worth and no one can be sued, but the government. Now how convenient – you have to sue the government for vaccine injuries or death, not the trillions dollar pharmaceutical companies who make them. Please pray for our family and journey we are about to endure. #JusticeforVida
Q&A with Abigael:
Q: Was Vida healthy prior to her 4 month doctor's visit? Did you notice anything unusual about her behavior or physical body before she received her vaccines? Was she sick, teething, feverish, etc.?
Abigael: She was in perfectly good health in the 90th percentile. Sleeping through the night drinking 6-8 ounce bottles. She would already try to hold her bottle. Loved watching her selfie videos. After her shots on 4/5/19 where her pediatrician also stated she was in perfect health.
I remember her fussiness coming and going and sometimes more in the evening. What really concerns me was after her shots I only changed one pooped Pamper and that one, her stool was black, gooey, and smelled like mothballs. I quickly checked on Google for the smell of chemicals in her stool, but nothing alarming came up. I was not alarmed seeing that other talk about the smell and that something to do with lactose. So I thought maybe because I changed her milk again. My mom complained that Sunday she was more fussy then normal and asked me if something was wrong with her. Never did I check for black stool because when she was first born it was the same way.
Q: Did you doctor provide any info about the risks/benefits and full informed consent during that 4 month visit?
Abigael: No.
Q: Which vaccines did Vida have before her 4 month visit? And if she did receive any, did she have any prior adverse reactions or experience side effects of any kind?
Abigael: She had the usual shots at her appointment. I know after 2 months she was way more fussy. I thought it was gas and she didn't poop every day and I asked my pediatrician. She said it was normal, but she would go every other day. I even changed her milk to sensitive, but I can't remember if it was before or after her 2 months.
Q: What did you know or understand about vaccines prior to having Vida?
Abigael: I never asked any questions. I thought that was what your supposed to do.
Q: When did you give Vida Motrin? What else was she given (medication or otherwise) for comfort?
Abigael: Motrin every few hours after her shots (so she wouldn't get a fever and pain) and when she got real fussy that next week. But her fussiness would go and come hours throughout the day and I thought it was colic and she wasn't drinking as much as she use to.
Q: Can you describe how her behavior changed after her shots, if anything else other than what you mentioned? (black poopy diaper, screaming/crying, not able to be soothed.)
Abigael: She wouldn't eat as much as she used to, so she started waking up during the night that week.
Q: Did you inform your doctor of Vida's death? What was the doctor's opinion of her cause of death? And his or her reaction?
Abigael: She looked confused when I showed her the death certificate because it states…her words "from the common cold". She said "that doesn't sound right. Surely it should be SIDS or something else?" She asked me to request an autopsy report, so we can go over it together. She seemed confused and stunned at the cause of death. We have a good relationship since my daughter has been going to her for years before Vida.
Q: Was a VAERS (Vaccine Adverse Event Report System) report filed?
Abigael: No, I haven't done it yet. I am talking to lawyers which I am sending all reports to tomorrow. They said they will help file – I am assuming if they take my case.
Q: Are you planning on doing an independent autopsy? And doing further tissue testing for a much deeper look at cause of death other than "natural causes."
Abigail: Yes, if necessary.
Q: What do you wish you knew prior to vaccinating Vida? And about vaccines?
Abigael: I wish I knew the side effects, so that I could of weigh out my options to choose what was best for my daughter. I had no idea they weren't safe. I did not know the studies behind each one or why they are even given.  I was ignorant and just blindly trusted them because I thought it had to be done.
Q: Had you ever heard of anyone's child or an adult having a negative reaction to a vaccine, an injury, or any deaths?
Abigael: No, I never heard anything about any other child, injury, or death that had happened to anyone else or side effects to vaccinating your child.  This would have not been a gamble that I would of ever risked if I would of know the possibilities.
Q: Do you have any other children? And if so, will you continue to vaccinate them?
Abigael: No, not at this time. Especially not without doing research.
Q: What advice/warning do you have for other parents and doctors?
Abigael: I would tell parents to be knowledgeable on what is given to your child. Research, find out side effects, don't be afraid to ask questions, don't get pressured if you feel it in your gut not to. Delay the vaccine by never giving your child more then oncurree if you decide to vaccinate.
Q: What is the most pressing issue surrounding vaccines that concerns you?
Abigael: The most pressing issue is #1 why have so many vaccines been added to our children schedule? My generation never received these many vaccines and we are alive…so necessary it isn't to live. 2nd, if they are so safe, why can't we sue the pharmaceutical companies who make them? Why does the government feel the need to protect them if again they are safe? Why is there a cap on the payout to one's child of $250,000. Our children don't have a price tag.
Q: What else would you like to share?
Abigael: Healthy babies don't just die. Coincidences of death of so many babies after vaccine isn't coincidence. Medical examiners should be thorough and be independent and not be run again by the government who can and will do what is necessary to keep their job and either lie or not do their job in looking for REAL ANSWERS OF CAUSE OF DEATH.
---
Abigael is similar to many parents – she wasn't informed by her doctor of the dangerous risks to vaccines. She trusted the doctor and followed what she believed she was "supposed" to do. Had she been aware of the risks, including death, she might not have chosen to vaccinate. When an injury or in her case, an infant's death occurs, the parent scrambles for answers and no guidance is given on the steps on how to pursue the appropriate tests and uncover the cause of death.
This is an all too common situation where the medical industry either covers up the actual cause of death by refusing additional autopsy and tissue testing and/or dismisses the link to vaccines altogether by deflecting blame and shutting down parents' concerns – and labels the death as "natural." This needs to change – parents have the right to ask questions and conduct deeper investigations into their children's death. If a medical examiner isn't able to determine the cause of death from the standard protocol, if from "natural causes" or "SIDS", especially directly following a round of vaccines, then an independent autopsy and additional tissue and lab testing should be advised.
We wish Abigael and her family the strength, stamina, courage, and resources it will take to further research and investigate. May Abigael and her family continue to do what it takes to bring Vida's death and story into the light of truth and may she find answers and justice for Vida.
---
~ In loving memory of Vida Santana Villarreal (December 4, 2018 – April 13 2019) ~
Please share your condolences and heartfelt messages with Abigael and her family below.