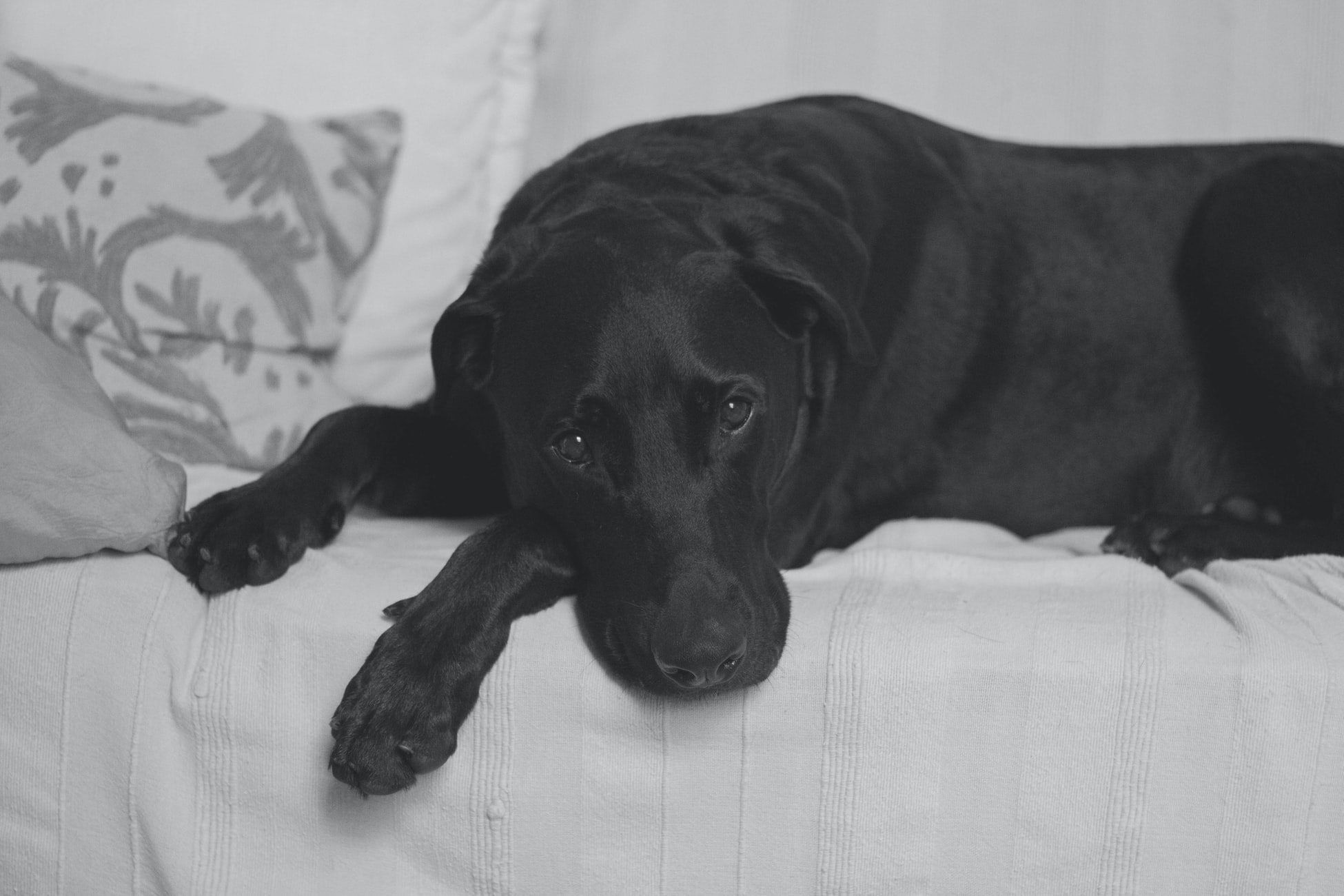 How to Naturally Ease Pain & Anxiety in Pets
You know that look. That heartbreaking mix of humiliation and defeat. The pleading in your pet's eyes to take away the pain and suffering.
You know that feeling. That helplessness you feel when you can no longer help, and the desperation that comes when you're faced with the gut-wrenching decision of having to say goodbye to your best friend and loyal companion.
If you've ever had a pet, then you know the agony and uncertainty of being faced with that decision. You spend countless hours [and thousands of dollars] at the vet, but nothing seems to be working.
What's worse, many so-called treatments and "mandatory" vaccinations prescribed by your vet can cause your pet more harm than good.
Some Treatments Do More HARM Than Good!
Non-steroidal anti-inflammatories (NSAIDs)
Prescription deworming drugs
Flea and tick medications that contain pesticides
Vaccinations containing toxic heavy metals
Believe it or not, these "remedies" can trigger your pet's immune system to overstimulate – causing their body to basically attack itself.
At the root of these attacks is inflammation, which can lead to joint pain, fatigue, achy muscles, digestive issues and so much more.
But what if you could help them? What if you could ease their suffering so they can enjoy life by your side a little longer?
Modern medicine doesn't have the answer to this problem… but Mother Nature does. And has for years.
But we couldn't get our hands on it. Until now.
Nature's Answer to Pain & Anxiety in Pets Has Arrived!
Imagine seeing some bounce back in your pet's step, easing their everyday aches, and providing calming relief to how they respond to stress and anxiety. Up until recently, you couldn't.
But now that hemp has been approved to be sold in the United States, a new solution has arrived: broad spectrum cannabidiol (CBD) oil.
You may have already heard about CBD Oil and how it is helping people manage stress, improve sleep, and ease everyday discomfort. Guess what? CBD Oil works for pets too!
Most of CBD Oil's benefits come from its effect on a network of receptors in the body called the endocannabinoid system (ECS). Humans aren't the only ones with an ECS, animals have it too! This means many of the benefits that work for us, will also work for our best friends.
A large volume of evidence suggests CBD Oil may be the perfect way to bring improved health and happiness to your furry family members.
The cannabinoids in CBD Oil can help your pet bounce back after activities, ease their joint discomfort so they regain mobility, and even calm and relieve stress. Here are five ways CBD Oil can help.
5 Ways Broad Spectrum CBD Oil Can Enhance Your Pet's Life
1. Natural Relief from Pain
Cannabidiol (CBD) is renowned for its pain relief properties. Researchers believe this is due to the interaction of cannabidiol with receptor sites in the brain and the immune system (1).
If you have an older pet who's experiencing signs of discomfort, a quality CBD Oil may be an effective means to relieve their pain, so they suffer less and live a happier life.
2. Anti-Inflammatory Support
CBD (cannabidiol) is a powerful anti-inflammatory substance (2). So how can this benefit your pet beyond controlling pain? Almost every health issue out there involves elevated inflammation.
Often, managing the inflammation helps reduce the symptoms. For a dog with joint issues, this can mean maintaining or even improving mobility, making it easier to climb stairs or just generally get around.
3. Stress & Anxiety Reliever
Do you have a dog or cat that's constantly on-edge, anxious, or stressed when you leave the house or introduce new people? If so, you're not alone. It's a common problem. This anxiety can manifest as aggression, being fearful or isolated, making excessive noise, destructive behavior or going to the bathroom in places they shouldn't. It's stressful for the pet and the owner.
Luckily, CBD Oil has been shown by several studies to reduce feelings of anxiety and stress (3). Which means it's the perfect solution to help reduce stress for sensitive cats and dogs.
4. Nausea Relief
If you're a veteran dog owner, you know they are prone to vomiting. More often than not, it's in the places you want it the least. Like your new living room rug or favorite pair of running shoes.
While vomiting can mean something serious, it also happens naturally from time to time. Cannabinoids in CBD Oil are shown in studies to help reduce nausea and vomiting (4). This can help your pet feel better and cut down on cleaning up around the house.
5. May Ease Seizures
Epileptic seizures are a common neurologic disorder in dogs, which is scary for the pet and dog owner. Research on humans suggests CBD Oil may help. One study found that taking cannabidiol (CBD) reduced the frequency of seizures by a whopping 41% (5). While this study was conducted in humans, dogs also have similar receptors in the ECS, suggesting that CBD Oil may provide relief for pets too.
Warning: All CBD Oils Are NOT Equal for Pets
Unfortunately, the 2018 Farm Bill also opened the floodgates for anyone and everyone to jump on the CBD bandwagon. The strength and quality of CBD products can vary—a LOT.
Some providers tout hemp oil at bargain basement prices only to deliver a sub-par product with barely any cannabinoids at all. Or the carrier oil is refined vegetable oil which can causeinflammation in your pet.
Or worse, the hemp strains are from industrial crops yielding an extract loaded with pesticides, solvent residues and other toxins. Or, the CBD Oil has detectable levels of THC, an intoxicating compound in hemp that humans can tolerate, but pets cannot. You want to help your pet, not harm them.
So, when selecting CBD Oil for your pet, make sure it's specially formulated for pets, with pet-appropriate levels of CBD, comes from organic hemp, and is lab tested for safety. And it should always be THC-Free CBD Oil.
Though it may seem a lot to consider, it's critical to understand what you're getting and giving to your pet.
The good news is, there's one company that's already done the legwork for you in developing the safest, most advanced formula, specifically for animals.
Introducing: The Safest, Most Effective Broad Spectrum CBD Oil on the Market Specially Formulated for Pets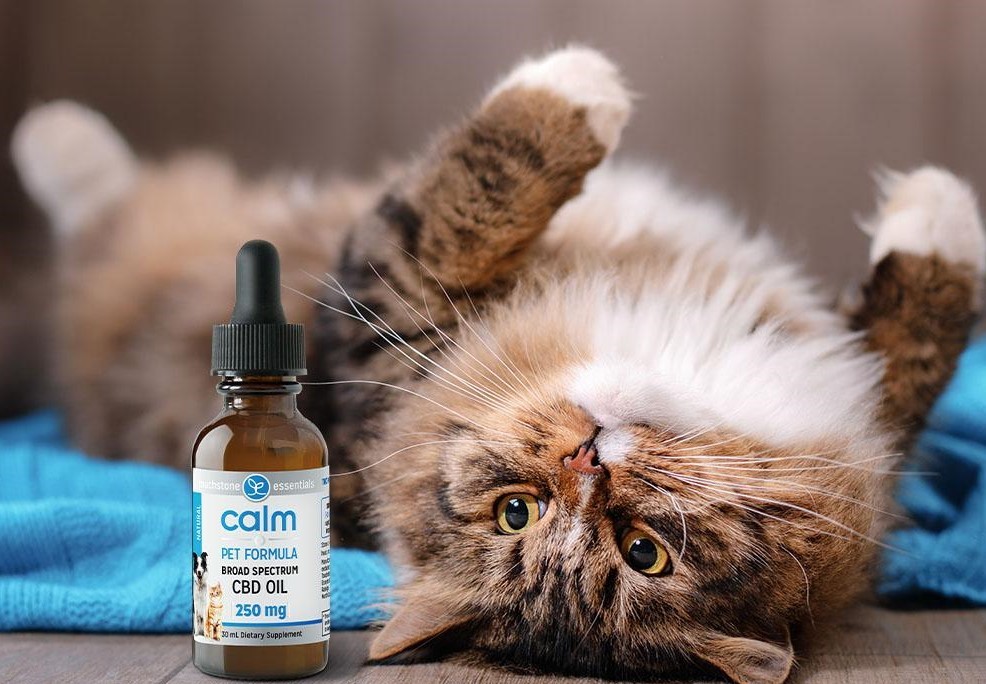 Calm Pets CBD Oil is the purest, all-natural, fast-acting, THC-free, broad spectrum CBD Oil on the market, specifically formulated for pets.
It's created by a family-owned company called Touchstone Essentials with a proven track record of touching lives with goodness. They have thousands of five-star reviews on their site from satisfied customers.
The Touchstone Essentials Difference
Superior non-GMO strains of hemp, organically grown in the USA and rich in cannabinoids, terpenes and flavonoids for premium quality.
State-of-the-art extraction method delivers a broad spectrum of cannabinoids that is pure of solvents or toxins.
Non-GMO with no artificial ingredients, and with a natural hemp flavor that pets love.
Advanced nano-emulsification technology breaks the oil down into tiny droplets for rapid absorption and increased bioavailability.
Advanced absorption also means greater value. By absorbing more of the cannabinoids per serving, your pets get fast relief at a low cost.
No prescription required! All traces of THC are removed while preserving all other beneficial compounds found in hemp.
Third-party lab testing ensures each and every batch is free of contaminants and contains zero THC. Results are always posted online.

Some of the stories will melt your heart!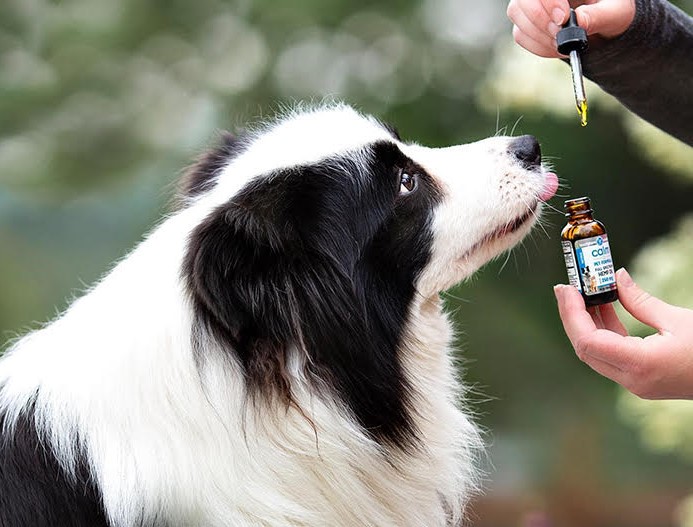 "Like most border collies, Dasher loves to play and swim, but at 10 years old, his mind still loves to, but his body can't keep up. He has arthritis, and about a year ago is when I noticed it really started affecting his mobility. He just had no stamina, which is heartbreaking when you know how much he loves to play. About a month after he began taking the Touchstone Essentials' products, he started swimming for about 20-30 minutes easily. He also seems a lot less sore and tired after activities!" – Jennifer F.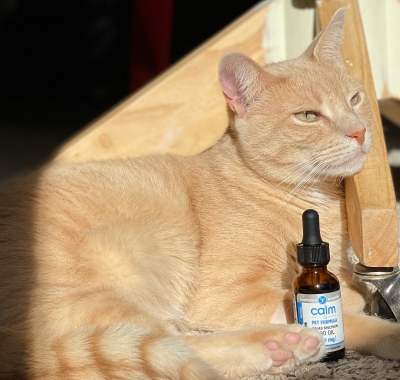 "My cat was rescued from living on the streets in New York City. Meeko is a sweet boy but all that time on the streets did a number on his teeth, and he had to have dental surgery several times. The Calm Pet CBD Oil has been a lifesaver for his recovery. He has been able to bounce back without any discomfort and is relaxed and chill throughout all that stress." – Sawyer S.
Life changer!
July 11, 2020 by Kyle N. (AZ, United States)
"The Pet Formula has been a life changer for our sweet 14 year old hound, Lucy. Keeps her calm during thunderstorms where before she would tremble with fear, she now has very few symptoms or concern of the noises. Thank you Touchstone!"
Effective for pain
May 12, 2020 by Holly M. (WY, United States)
"Helped my dog with pain and to be calm. My dog was attacked by another dog on a walk, the bite got infected and even after thousands in vet bills the septic elbow kept returning. He was shaking in pain once I gave him the CBD Oil he calmed down and was no longer shaking. We still do not know if we can save him but I am thankful that this has given him peace and comfort during this terrible time."
January 6, 2021 by Linda E. (United States)
"My dog started having seizures. When we started this product the seizures stopped"
Good cat product! One drop into his mouth worked great.
June 6, 2020 by Shelly D. (VA, United States)
"Worked to calm my 12 pound cat when he was having something like an anxiety attack when we had "strangers" – HVAC people in our home. Thank you!"
Relieved my dog's pain
September 18, 2019 by Amanda K. (CA, United States)
"My dogs love this, and it has helped my 13 year old boy with his arthritis pain!!"
December 30, 2020 by Sara C. (United States)
"My dogs are much calmer while taking it I put it on the food"
And there are countless more. 
Why I'm Recommending it Today
I've been giving my pet (Mr. Cat!) Calm Pet CBD Oil and have been blown away by the results. I was so impressed that I reached out to the company's Founder and CEO, Eddie Stone about making it available to my readers.
It turns out, Eddie is as passionate about animals as I am, so he agreed to reserve 100 bottles of Calm Pet CBD Oil at an incredibly low price, exclusively for my readers. Which is why I'm recommending it to you now. It's truly a miraculous product.
A Special Offer for My Readers Only
If you're a pet owner, an advocate for animals, or know someone who loves their pet, this is a special offer just for you.
Normally, this remarkable product sells on their website for $44, which is why I was shocked when Eddie said he'd offer it to my readers for just $5. They'll even include free shipping. I asked him how he could possibly offer it at such a low price, and this is what he said.
"We're on a mission to touch one million families with goodness, and our pets are family too. When we get our product to people (and pets), the results are so good, people reorder again and again."
But it gets better.
When you subscribe to a monthly shipment today, not only is your first bottle $5, but you'll lock in a 20% off member discount every month after that.
100% Risk-Free Guarantee
Best of all, there's zero risk. You can cancel your subscription any time (before the next shipment), or return your shipment within 30 days for a full refund. They'll even refund your $5 if you're not happy with the product, less return shipping of course.
Hurry, It's Only Available to the First 100 People
There is absolutely nothing to lose and so much to gain. But you have to hurry, there are only 100 reserved for only $5. Last time we had an offer like this it SOLD OUT IN 48 HOURS.
Claim Your $5 Bottle of Calm Pet CBD Oil Now
Your dog or cat has been by your side, loving you unconditionally for years. A few drops of calming relief are all it takes to give your best friend and loyal companion a better quality of life. They would do it for you in a heartbeat. Give your pet the relief they deserve today.