DTP Vaccine Severely Damages Four-Month-Old Infant For Life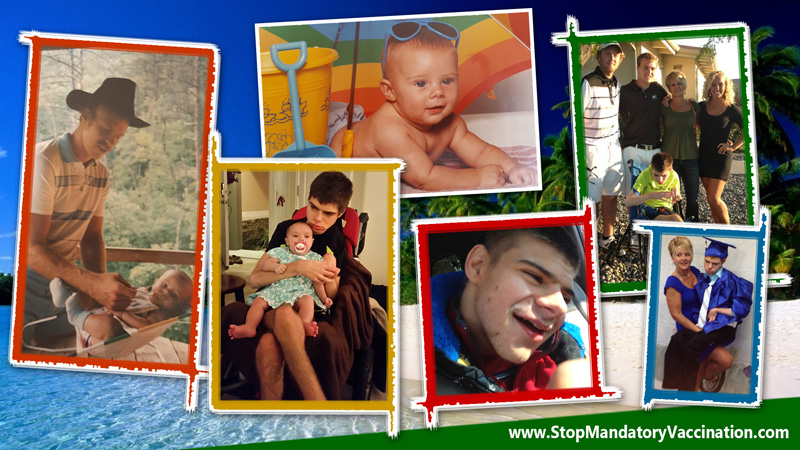 Matthew was born a healthy, beautiful baby boy at a whopping 8 pounds, 5 oz and 21 inches long on February 25th 1987. From the first time Muriel laid eyes on him she fell in love, a love that all mothers feel when they hold their child and look into their eyes for the first time. Muriel and her husband Doug thanked God for gifting them a healthy precious baby boy and the new parents couldn't have been happier. Their life was just beginning and they had so many hopes and dreams to look forward to. Little did they know that it would all change very soon.
Muriel was a first time mom and like most new mothers she took her son to his first "well baby" visit around his two-month birthday to get his first set of vaccinations and a check-up. That day he received the DTP (Diphtheria, Tetanus and Pertussis) and the oral Polio vaccines. Matthew instantly started crying and cried non-stop for the next few days. She contacted her doctor and was informed that it was a normal reaction to the vaccines and that she had nothing to worry about. She took her doctor's word for it, trusted her doctor's assessment, and eventually Matthew was back to his normal self.
By four months of age Matthew had never been sick a day in his life and fortunately he was progressing normally and hitting all milestones. He was making eye contact, responding to their voices and was starting to pick up his toys. Muriel and her husband Doug knew that it would only be a matter of weeks before he would start to crawl. He was already up on all fours, rocking back and forth and diving in the attempt to make his move. His measurements were all well above the average percentile, confirming what this new mother already knew: he was her perfect little boy. It was at four months of age that Matthew went back to the pediatrician's office where he received another round of the DTP vaccine.
When Matthew got his DTP shot he cried out in pain. Muriel's heart sank while sharing his pain with him, not even knowing at the time that this would be the last time she would ever see her perfect, happy, healthy little boy again. Within the next few hours he became irritable and cranky. Later in the day, he became feverish and he continued to be very finicky and fussy throughout the day and into the night. By the next day Matthew's crying was non-stop and hard to bear. Muriel noticed he also looked lethargic and he would stare off into space periodically.
Soon after, she laid him down in his playpen and as he was kicking his feet at the bright colored ball that was hanging over him, he suddenly stopped, turned to his side, his face expressionless and stared blankly. Muriel's first thought was that he was dead so she leapt off of the couch and rushed to his care but he suddenly snapped out of it. She phoned the pediatrician immediately and after explaining his new behaviors after the DTP shot, the doctor reassured her that he would be just fine – she was just being an over-reactive mother and she had nothing to worry about. With everything inside of her she wanted to believe this doctor but she knew in her heart that Matthew was having an adverse reaction to the DTP vaccine.
Over the next few weeks Matthew continued to worsen. He had more starring spells, flu- like symptoms, a runny nose, fevers and irritability. He seemed to be himself one minute and then tired and lethargic the next. Muriel began to call the pediatrician's office daily only to be informed that he would be just fine and her anxiety was unfounded. When she mentioned that she thought that the DTP shot had something to do with his declining behaviors the doctor shut her down quickly and assured her that it could not be the case. The doctor mentioned he was probably cutting teeth or had the flu. Matthew was not cutting his teeth and he was not "just fine." She knew something was wrong and as her worries intensified so did the phone calls to the pediatric office.
After three more frantic phone calls in a twenty-four hour period the doctor finally agreed to see him in her office. As she carried her sick little baby into the pediatric office the doctor took one look at Matthew and confirmed Muriel's worst nightmare. The doctor immediately began to examine Matthew's listless head and body and noticed that the fontanel (the soft spot on his head) was full. The doctor immediately advised Muriel to take Matthew to be hospitalized for testing.
After a 25 minute drive to the hospital the staff immediately began running tests on Matthew. At 4 months old he was being poked and prodded while Muriel stood helpless, scared and in shock. Doctors, nurses and other staff members were drawing blood, inserting IV's and performing a spinal tap. As he lay in the hospital bed Muriel laid next to him. She held his tiny hand, trying to ignore all of the tubes and hospital equipment. Over the next 48 hours Matthew became more seriously ill. His fontanel grew even fuller, Spinal Meningitis was ruled out and he began to have Grand Mal seizures.
Matthew was then transferred to the Children's Hospital in Florida to be tested for Encephalitis/Encephalopathy (swelling of the brain). He remained in the Intensive Care Unit while doctors ran more tests. At this point his prognosis was bleak and the doctors warned Doug and Muriel that he may not make it through the night. When she heard those words come out of the doctor's mouth a part of her wanted to die too but she knew that she had to be strong and fight for her baby boy. In the morning doctors were amazed that Matthew made it through the night. She questioned then, and still questions now, why God would let him live – but now she knows it is to tell his story.
Eventually he was diagnosed with Encephalopathy and released from the hospital. At this point Matthew had lost all five of his senses and all control of his bodily functions. He has never walked or talked a day in his life. He suffers from Petit-Mal Seizures, Grand Mal Seizures, Head Drops, Staring Seizures and what his mother calls Laughing Seizures. He also suffers from gastrointestinal issues and severe esophagus problems. Twenty-nine years later Matthew still suffers from an average of 20 seizures per day. His mother and other family members provide 24/7 care and will need to provide 24/7 care for the rest of his life. His once healthy life was completely ripped away and replaced with a lifetime of suffering and pain.
Matthews's mother calls him the "Million Dollar Baby" and he has very well earned that name. After 29 years of diligent care, therapies and special needs, insurance has not covered a substantial portion of the cost. Muriel has needed to purchase diapers, wipes, beds, wheelchairs, chairs etc. and is currently looking for a special jogger so she can take him running with her. Matthew is labeled blind and deaf but will react well to some tactile stimulation. Matthew needs total and complete care. He will always need assistance with his daily activities such as: eating, bathing, changing clothes, brushing his teeth, combing his hair and all other daily activities. He is completely dependent.
Even though Encephalopathy is listed in the DTP vaccine package insert as an adverse reaction, doctors never determined the origin of the injury. In 1986 President Regan passed a law to protect the vaccine manufacturers from liability and therefore vaccine manufacturers cannot be sued for injury or death caused by their vaccine products. What we now have is The National Vaccine Injury Compensation Program (VICP), which was established by the 1986 National Childhood Vaccine Injury Act (NCVIA), passed by the United States Congress in response to a threat to the vaccine supply due to a 1980s scare over the DPT vaccine. Since the establishment of this program, over $3.4 billion dollars has been paid to families for death and injury from vaccination. The courtroom is not like any other courtroom with a jury or regular courtroom proceedings – it is run by government officials that are intimidating and callous. A case must be thoroughly and profusely proven with substantial evidence to back up statements with evidence such as medical records, pictures, videos and other sources.
Muriel and Doug applied to the VICP to be compensated for the vaccine injury and fought for over four years in order to win their case. Matthew gets an annuity each month which is pretty much equivalent to a Social Security check. While they were able to have this small triumph, they feel as if they were lucky to even get compensated – most families with vaccine-damaged children are not so fortunate.
Muriel has had to watch her son suffer for the last 29 years and she has suffered right along with him. She has been a prisoner in her own home and he has been a prisoner in his own body. She has felt helpless and sometimes angry when her son suffers from a seizure or cries out in pain, but over the years Muriel has learned that being happy is a choice and she chooses to be happy.
This tragedy was a blessing in disguise to her family and their future children. Muriel took Matthew's horrific experience as a lesson learned and did not vaccinate her other three children: Brian, Josh and Kristina. One of her children received a tetanus vaccine (without her consent) after a baseball accident at the age of five but other than that they remain vaccine-free. Muriel's other children were never sickly as children, and if they got the common cold or a fever they fought it off within a 48-hour period. These children were/are very healthy, happy, above average and have all experienced what Matthew never had the chance to experience in life.
Muriel was once told by one of her children's teachers that she should teach a parenting class because her children were so well-behaved and wonderful, but in reality the real teacher here is Matthew. Matthew has taught this family to never take life for granted and to always show love and compassion for each other no matter what struggles lay ahead. Doctors need to learn from families like this one and listen to them when they express a medical concern. After all, doctors work for us – we don't work for them. The least they could do is hand the parents a vaccine package insert prior to vaccination so parents can make an informed choice before an infant is injected with toxic, injurious ingredients.
No parent should have to play Russian Roulette so that others can have the illusion of being protected. Vaccines fail, shed or spread disease, and have caused more harm than good. At least 1 out of 45 children in America today are on the autism spectrum, 1 in 6 children have learning disabilities, 1 in 9 children have asthma, 1 in 10 children have ADHD, 1 in 12 children suffer with depression and 1 in 400 becomes diabetic. Since the Childhood Injury Act passed in 1986 the vaccine schedule has more than quadrupled and chronic health problems in children have gone through the roof.
Any vaccination, at any time, can cause permanent injury or death. Vaccines are dangerous, and we don't need them to protect our children. If you want to learn more, please read through this website, or read Cynthia Cournoyer's excellent book, What About Immunizations, a short and concise overview written for parents concerned about vaccines and whether or not we really need them.