Stop Mandatory Vaccination TV Commercials
San Francisco Bay Area TV Commercial
Donate To Our TV Commercial Fund So We Can Reach Parents
Donate through PayPal (left column) or at the GoFundMe Page.
The first Time Warner Cable purchase has been made: for $5,000 we placed both of these commercials in the Los Angeles metro market and will reach 3 million people around 7 times each over the course of ten weeks. 
Any person or group may raise funds and place these commercials in their local market. Find your local cable network and ask for a quote based on $1,500 for one month with a female demographic, 24 years of age and above, widest possible reach. I will help you place the commercials once you have secured the funds.
Our TV commercials are designed to appeal to parents who may have some concerns about vaccine safety and efficacy, but are unsure of where to turn to for information. By pushing our 30 second commercials into mainstream media we can reach millions of parents who would otherwise not have access to this information. The goal is to entice curious parents to check out this website, discover that vaccines are not safe or always effective, and to seriously question the need for vaccination. If we can get parents to question vaccine safety and need, these parents will then rightfully question the concept of mandatory vaccination. Once that happens, they can go to our Take Action tab and join groups of like minded folks working to stop mandatory vaccination laws. Thank you for supporting this worthy cause with your generous donation!
Larry Cook
larry@stopmandatoryvaccination.com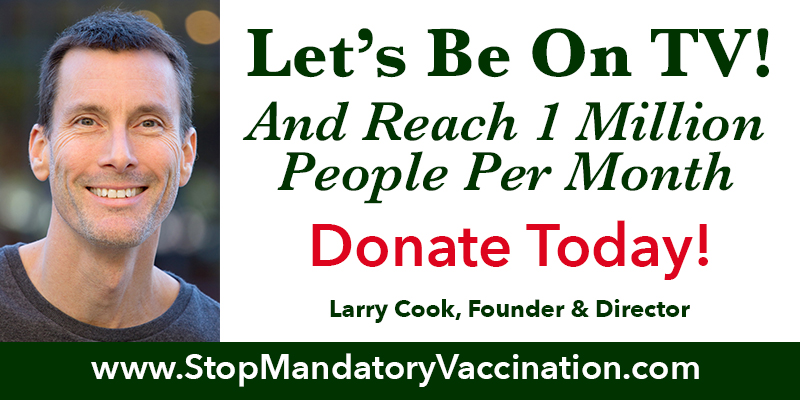 Facebook Comments