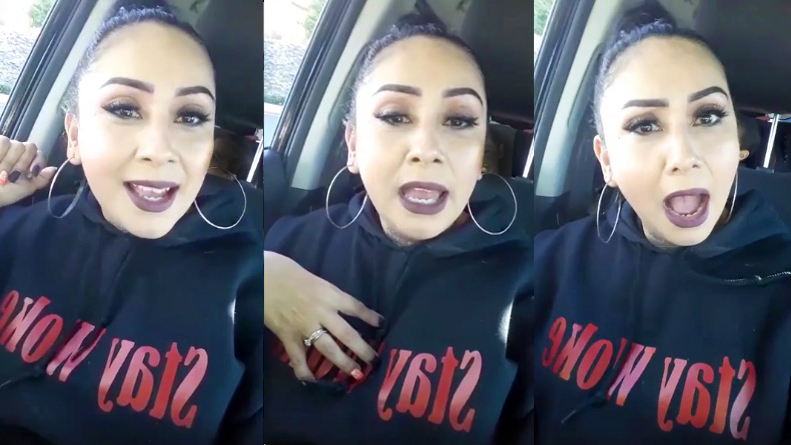 Pediatrician Blocks Exit and Mom Goes Ballistic and Puts Doctor In Her Place
Denise Marie, a California resident and mother of two children, is outspoken and vocal about her experience of being bullied and threatened by a pediatrician she was interviewing. Bullies are known for their manipulative tactics including coercion, threats, and their power play oppressive disposition. Bullies are not just found in the classrooms and playgrounds of America, but also in doctor's offices and other medical facilities. It is not uncommon for pediatricians to bully parents who prefer vaccine choice. Doctors' offices increase their profits by injecting more vaccines. Denise shares her doctor's office visit escapade, how important it is to learn what rights parents have, and what brought her to researching vaccines.
Denise was furious as she left the doctor's office and posted this video on social media to share her terrible experience being bullied by the doctor. She shares with us her story:
"On Monday, October 23, 2017, at 8:20 a.m., I had a doctor's appointment for my three-year old son at Lodi's Children's Clinic in Lodi, California. We do not do well-child visits, but I was interviewing doctors for a new pediatrician just in case and informed the receptionist of this. They asked for my son's shot records and I told them we did not have any and were assured that was not a problem.
After the medical assistant left, the doctor comes in and starts asking my son his name, age, what color was a toy. She started asking me if I had guns in the house, if I have smoke detectors, if my son rides a bike and wears a helmet, and if he uses a booster car seat. I tell her that's irrelevant and I'm not answering her. She tells me I should think about vaccinating him for an ear infection. "There's a vaccine for an ear infection? Tell me more." Then I asked her if she could explain and read the package insert of the recommended one, the pneumococcal conjugate vaccine (called PCV13), Prevnar 13, with me. She tells me, "No." I can take the fact sheet home.
The doctor continues to tell me this and that I can delay the schedule. I told her, "No, we aren't vaccinating and I was told that wasn't an issue." Twice, I asked her again to go over the insert in which she replied, "No."
Then the medical assistant returns and gives me the "Refusal to Vaccinate" form. I tell her I'm not signing it and I was getting my stuff to leave. I'll take it home to read it. I wasn't going to sign it because it says, "I know I am putting my child at risk if I am not vaccinating." Maybe this isn't the doctor for us. I'm going to leave. She states, "It's a legal document that releases us from liability, if he comes down with measles, encephalitis…you can't leave until you sign it." I share with her that maybe she should do her research because she is not held liable if something happens and I do not have to sign the form. She then stood between me and the door saying, I can't leave the office unless I sign it or agree to the schedule. She then tells me that if I don't sign the form, she's required to call Child Protective Services (CPS). "Oh no, we are not going to do that today," I tell her. She gives her schpeel and I'm quiet.
Then I say, "My turn." Let me tell you your role today. You were being interviewed to be hired for a position and obviously you didn't pass that interview." She picked the wrong one [to mess with]! Furthermore, there is no law in any state to require vaccines. So you making a report to CPS – that will be false for medical neglect or abuse and would be a false report. No judge will sign the warrant, without a witness with first hand knowledge of abuse. My son is perfectly healthy and has no issues as you stated earlier, "Wow, he's a pretty healthy child."
So, furthermore if you call CPS, if I get a phone call or a door step from CPS, mind you, you will be held liable in civil court for any and all fees accrued for an attorney and all legal fees that come along with that. I dare you to make a CPS report because I will be on the phone in my car contacting the medical board for coercion, standing between myself and the door, and not allowing me to leave, with a threat of CPS." She moved out of the doorway.
I'm furious for you parents who have to go through this and who do not know your legal rights. No law in any state requires vaccination. And if a doctor comes between you and the door, stating, "If you do not sign that paper and don't vaccinate," that is coercion. That is under duress and you print your name and you sign it with quotation marks at the end if you feel like you can't leave and you're scared they're going to call CPS on you. That shows that you signed it under duress and that won't be admissible in court if anything happens. She said she gave me the pros and cons of vaccines – no she didn't. I asked for the complete info three times and the real adverse reactions, and she refused. What kind of doctor are you that you don't want to go over the info with your patients?
The doctor who owns the clinic called me to say this is not a policy of the clinic and that my doctor is new and does not know the laws. The head doctor at Lodi's Children's Clinic also told me that form is not standard procedure, and the doctor we visited did it [the refusal form] for herself not her practice."
---
Denise recommends parents understand their rights and the laws. "Parents, I know it's really difficult to stand against somebody that comes with this kind of authority. You need to know your rights, your laws, your diseases, your inserts. When did this happen where we are terrified to go to the doctors because we don't want our kids taken away? When children are perfectly healthy? When did that happen? When are we scared of the medical field? I pushed my position at work and let it be known that she had the wrong one. But what about you parents that don't know it? This is intimidating for some. I was so angry. When did the healthcare field become like, you have to prove yourself and you have to follow what they say or you get threatened? That's not healthcare. Find another doctor who's willing…even if they agree with vaccines. It is a parent's choice. This isn't an anti-vaccine or pro vax. These are your children. Nobody has the authority to tell you what kind of medical procedure to do with them, especially one that has proved to be dangerous. You should not be scared to go to the doctor and say my kid has a stomachache, an ear infection, and just want to make sure your child is healthy. This was an interview and even if it wasn't an interview, treat my kid, and move along! I feel really sorry for parents now who have to depend on taking their child to the doctor that they do have an illness they have to be seen for."
Denise's vaccine investigative research journey began after her two children had terrible negative reactions to vaccines. One child reacted to the Gardasil Vaccine (HPV Vaccine) at 12 years old, and her other son was current until age one and a half when he was diagnosed with severe eczema. He also suffers from allergies, asthma, night terrors, and gut issues. These adverse reactions and side effects caused Denise to halt the vaccinations. Denise shares, "My older two have health issues stemming from vaccination and my youngest has no vaccines and is healthy. My kids all have exemptions and are in public school. Our insurance threatened to drop us if we didn't have a pediatrician." She began researching what the laws are that constitute welfare checks and the surrounding legal issues. "I look at our laws of what constitutes a CPS visit and I also worked for an extension of CPS."
After Denise's doctor bully experience, she promptly switched to a new doctor and filed a complaint against the doctor and office. She never returned to the office where she was pressured and questioned for standing up for her rights and her children's health. Denise is not alone as a parent that satisfies insurance company requirements, and initiates a legal paper trail to cover any threats from doctors or other agencies related to the health care of her children.
Luckily, Denise has an amazing supportive network of friends and she is fearless when confronting medical professionals and advocating for her children. She continues to be alert, informed, and empowered regarding her family's health decisions. She empathizes with other parents who have experienced similar situations. Denise shared her story to help inspire other parents to be prepared by becoming current on the laws and educated before visiting their children's pediatrician or family doctor.
Know your rights. Be informed, not just of vaccine issues, but of the laws that protect parents and child guardians in your state. Build your confidence and arsenal of vaccine research, so you can be empowered when you confront doctors, especially arrogant bullies.
Facebook Comments